"gleason" movie review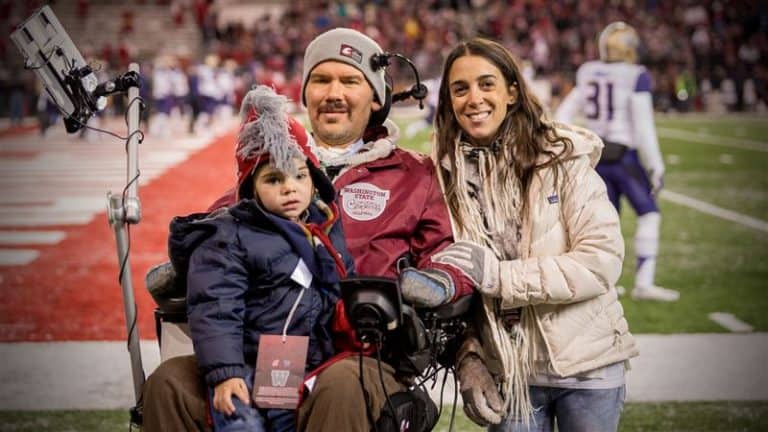 I'm not a football fan at all but I found myself completely riveted by this documentary about New Orleans Saints superstar Steve Gleason.
Renowned for blocking a punt during a 2006 game against the Atlanta Falcons, which led to a touchdown by the Saints, he — and the team — became the symbol of rebirth for New Orleans after the destruction of Hurricane Katrina.
But the movie's not about that. Instead, it's about Steve's personal devastation.
A video love letter to his son, Rivers, this powerful documentary follows Steve from 2011 when he admits, "I've been having some medical issues" to his life-changing diagnosis of ALS — Lou Gehrig's Disease — to present day when, against all odds, he's still fighting and helping others who are also suffering from the debilitating disease.
Steve's wife, Michel, found out she was pregnant six weeks after he was diagnosed with ALS. Because he was only given a few years to live at the most, he decided to make a video for his unborn child. The purpose of this gift was to show Rivers who his father really was, to "give you as much of myself as I can while I still can," and to "just love you."
Both Steve and Michel are so inspiring, and they never give up even when it would be impossible to blame them if they did. They are so real, you can imagine double dating with them, having some deep but also hilarious conversations.
Gleason could have been sappy but, instead, it is raw and honest and authentic as the two ride an emotional roller coaster — one that seems disproportionately set to "down" — together.
The filmmakers don't shy away from the horrors of ALS, and Steve not only shares his thoughts and feelings but he lets viewers into the most private areas of his life.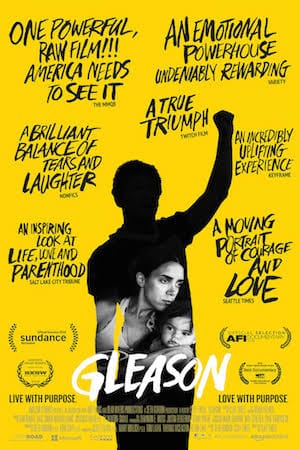 Although this movie is ultimately a testament to the human spirit and the power of love, it's also a beautiful father-son story. "That's what dads do — pass on the best of themselves," Steve explains to Rivers. But Steve is a son as well as a father, and much of the film explores his complicated relationship with his own dad. This is likely to resonate as strongly with male viewers as it apparently did with Pearl Jam's Eddie Vedder, who tearfully answers Steve's question about what he wished his father had told him.
Five years after his diagnosis, Steve and Michel continue to fight. Their charitable foundation, Team Gleason, has made a huge difference in the lives of people with ALS, offering financial, emotional and even legislative support. After the Republicans changed the rules in 2014, robbing ALS patients of the speech-generating devices that literally gave them a voice, Team Gleason became a driving force to get back coverage. Last year, President Obama signed The Steve Gleason Act, making critical technology available to ALS patients through both Medicare and Medicaid.
Gleason is a triumph on so many levels. Steve's promise, "No white flags," should become your new mantra and make you think twice before complaining about anything ever again.