"the light between oceans" movie review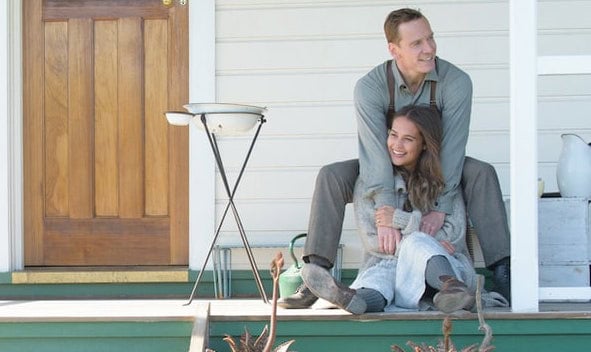 There is something about The Light Between Oceans that just makes me sob. I cried at the end of the book, and I cried at the end of the movie. And, oh, I'm talking the ugly cry, with tears running down my cheeks and salting my popcorn.
In other words, I loved it.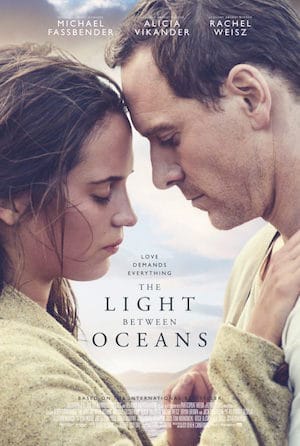 The story takes place in Australia early in the 20th century. Tom (Michael Fassbender) has just come back from the war and, still reeling from the horror of what he's seen and done, he accepts a job as lighthouse keeper on the isolated island of Janus Rock. Before leaving town, though, he meets Isabel (Alicia Vikander), who is rebellious, passionate and full of life. They fall in love, get married and set up their simple life together far away from civilization.
Although they seem set to live happily ever after, years go by and Isabel experiences two miscarriages (and, in the book, a stillbirth). Grieving, she believes she's imagining things when she hears a baby's cries. But she's not.
A boat has washed up onshore, carrying a dead man and a crying baby. Isabel claims the infant is a "gift from God," and she convinces Tom — a man of high morals and principles — that keeping the little girl, who Isabel names Lucy, is the right thing to do so she won't end up being mistreated in an orphanage somewhere.
Lucy thrives and the threesome are a tight-knit family. When they go back to town to introduce Lucy to her grandparents and get her baptized, they meet Hannah (Rachel Weisz), whose husband and baby were lost at sea and whose pain is still raw.
Uh oh.
I don't want to tell you any more because the story is absolutely riveting and I don't want to ruin it for you. I couldn't imagine where it was going to go — it had to be devastatingly sad no matter what happened — but, somehow, author M.L. Stedman wrote a beautiful, authentic and satisfying ending.
Although I will always prefer a book to its movie version, the filmmakers stayed true to the story and the actors are all excellent. In fact, I can kind of see Fassbender and Vikander, who are a couple in real life, as Rhett and Scarlett in a remake of Gone With the Wind. The movie is gorgeous to watch, and I found myself wondering what it would be like to live in a lighthouse.
My husband, Michael — a man with as much integrity as Tom — was not quite as enamored with the story as I was, and immediately blamed Isabel for not reporting the missing baby. I have to say I was a little annoyed with him about this because I think what the story does so well is blur the lines so we accept that what she's doing is wrong but, sniff sniff, it's easy to go a little crazy with the isolation of where they live and, waaaaahhh, look at all the love she's giving that poor baby. I'm not saying I would have done the same thing but I can totally understand why she did.
This is a story that really sticks with you, and Michael and I were still talking about it last night, when he announced to me that Hannah is the real hero. I would agree, and I'd love to know what you think.
The Light Between Oceans is about motherhood and love and what it means to look out for each other. Bring tissues.