"remember" movie review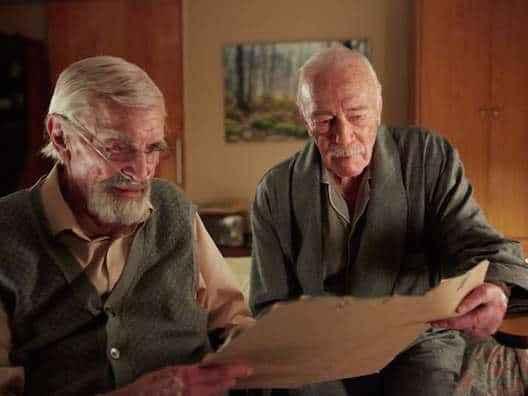 Go see this movie.
I'm tempted to leave those four words as my whole review because I don't want to spoil any of it for you and, really, that's all you need to know going into it.
But, because I need to write at least 300 words for my review to count for my San Diego Film Critics Society membership, I will give you a quick synopsis.
Remember is the story of Zev (Christopher Plummer) and Max (Martin Landau), two old friends in a nursing home who are both survivors of the Holocaust. Max has obsessively researched their history and discovered that the Auschwitz guard who murdered their loved ones is still alive and living under the name of Rudy Kurlander. Because Max is wheelchair-bound, the two make a pact that Zev will be the one to find and kill the man.
Unfortunately, there are a handful of Rudy Kurlanders out there, and Zev is suffering from dementia so Max packs him up with everything he needs, including a detailed letter specifying every step he needs to take. He refers to this letter constantly as his memory continues to fade.
Thanks to powerful performances by Plummer and Landau, the movie is riveting. The story takes on even greater significance because of its increasing relevance to current events. It shows that we must remember the Holocaust so that we never let it happen again.
Zev's interactions with the different Rudy Kurlanders will leave you holding your breath. One, in particular, is so horrifying, it will remind you that anti-semitism is very much alive today and that who we elect as our President this year will greatly determine the quality of life of everyone in our country who is not white, Christian, straight and male.
I am at 296 words.
Go see this movie.