my bout with empty driveway syndrome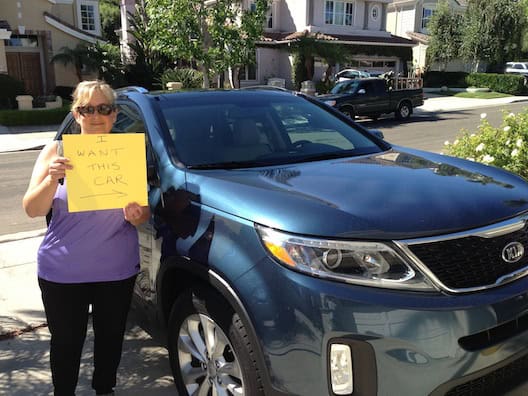 My daughter was home for the summer, and just went back to college. My son was home for the holiday weekend, and just went back to New York. And "my" Sorento was home for a week and just went back to Kia.
So, it's not enough that I have to deal with empty nest syndrome. Now I'm also suffering from empty driveway syndrome.
It's no secret that I have a major crush on the Sorento. I made my feelings very clear here, and quickly discovered that I'm not the only one who feels this way. Unfortunately, our time together was short-lived and I've been pining away for it ever since.
When my son's ten-year-old car died recently, it left us short a car since my daughter wasn't going back to school for another week and still had to get to work every day. I shared this sad story with my friend, Josh, for whom I regularly review cars.
And that's when my Sorento miraculously came back to me. Oh, Josh, you matchmaker, you. You will always hold a special place in my heart for this act of random kindness.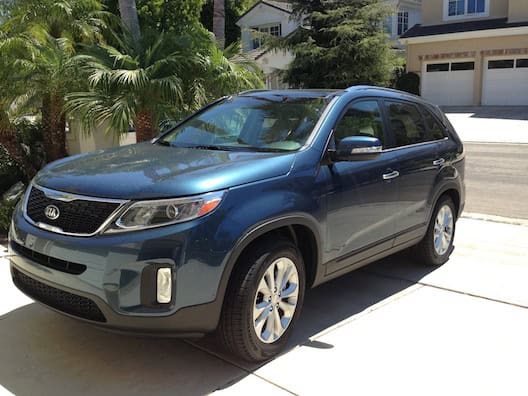 I have to admit I was a little nervous about seeing my Sorento again. My feelings had been so strong that I worried the passion would be gone, that the features I had swooned over might not live up to continued scrutiny.
Ha! The minute my Sorento took its old spot in my driveway, it was like no time had passed. Actually, my feelings were even stronger because, this time, it came in a more-suited-to-me Wave Blue. Beautiful.
While I was busy grinning stupidly, my daughter grabbed the keys and took off. For the next week, we drove the Sorento every time we went out. We would get in, see the Welcome message and start gushing over how much we loved it, and discussing how weird it was that we felt so strongly about a car. And everywhere we went, we got high-fives from people who owned a Sorento themselves, and compliments and questions from those who want to own one.
You may remember, the other day, I confessed I had trouble coming up with my favorite body part. Well, I have no trouble coming up with the Sorento's.
I am still enamored with the blind spot detection system (AWESOME), the panoramic sunroof and power liftgate but here are some of my favorite new discoveries, which prove you can always find something new to love about the object of your affection.
* The fuel reminder. You may recall that I ooh-ed and ah-ed over the Kia Forte's low fuel reminder. Well, the Sorento has it, too! I never realized that the first time I had the car because I was careful about not reaching that point. This time around, fuhgeddaboudit. We drove that baby everywhere. I was actually thrilled when the reminder came up because it's a fantastic feature and I was really hoping the Sorento had it, too. Note: This is the picture I took in the Forte because, by the time I remembered to take a picture in the Kia, I had already filled my tank and moved on.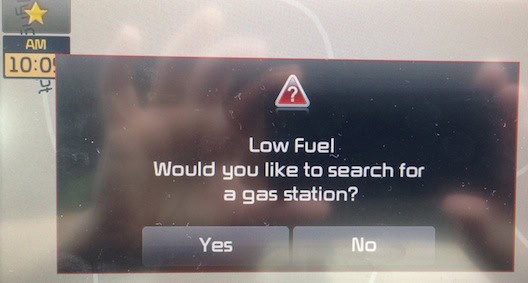 * The sound system. My iPod sounds better in the Sorento than it does anywhere else. The Infinity audio system, which I've raved about before, is worthy of additional praise. I could happily sit in the car all day, listening to my music. And this nice big screen with the easy-to-navigate menu makes the whole experience a joy.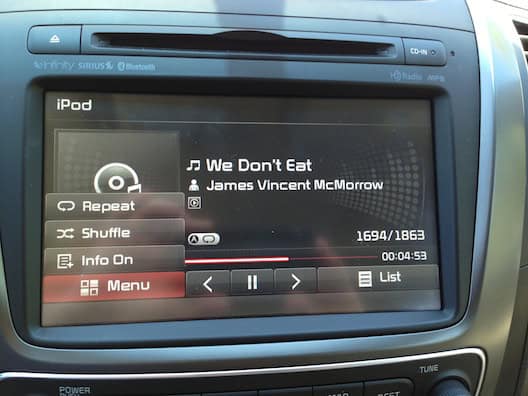 * The bottle shelf. I just discovered this space on the doors that's dedicated to holding bottles! I always have half-full water bottles rolling around the floor of my car (my cup holders are usually filled with iced teas), which make a lot of noise and are totally annoying. Kia is so good at paying attention to little details, and this made my car cleaner and my nerves calmer.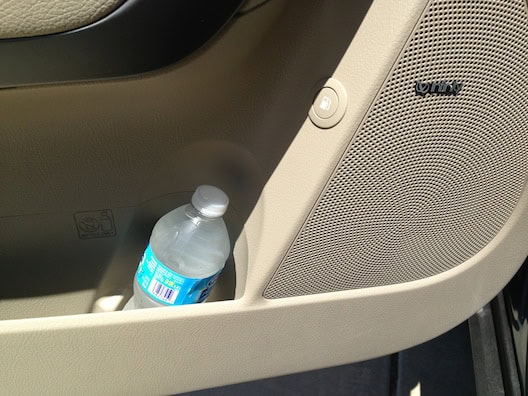 * The remote holder. Again, it's the details that make the difference. Because the Sorento is keyless, the remote has to be kept somewhere other than the ignition! Sure, it could go in the cup holders but, like I said, mine are usually full. Because I didn't want to use my fast food cups to demonstrate that point here, I tried to make a more elegant arrangement. Doesn't this look like one of those nice valets they sell for men to keep their watches and cuff links in? Sort of Downton Abbey-ish?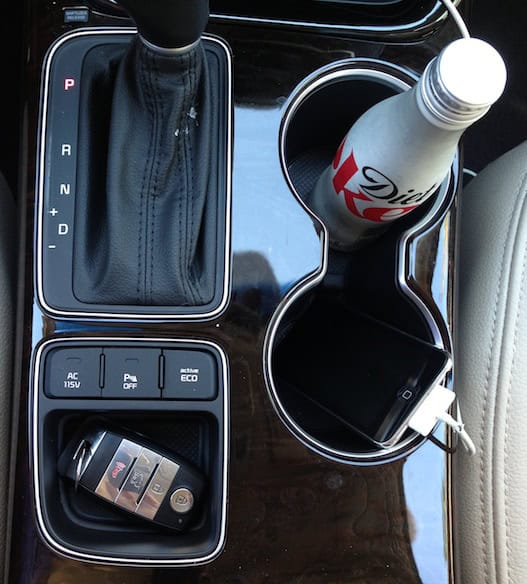 Anyway, these pictures are all I have left of the Sorento now because my former friend, Josh, had to take it back.
My daughter said we should have made a video so you can see how we talk about the car while we're driving.
But, in order to do that, I will need to borrow the car again for at least another week …