best buy and shine: geek chic!
Finding an activity monitor that does the job but is also as elegant as a piece of jewelry would be practically a miracle, right?
Well, cue the choir, because the Misfit Shine is here and it just may transform the fitness gadget industry. The size of a quarter, it's sleek, simple and sophisticated.
It makes you want to work out so you can look as good as it does.
Shine can be programmed to track your steps, calories burned and activities like running, biking and swimming (yes, it's waterproof). It will even report on your sleep.
Because it's such a stunner, I've found myself wearing it pretty much all the time since I received it. This is huge because it's kept me accountable and motivates me to literally go the extra mile to meet my day's goals.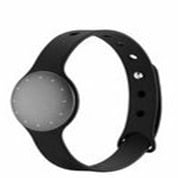 During tennis and Jazzercise, I just toss Shine in my pocket. The rest of the day, while I go about my usual routine, I usually wear it in the stretchy sport wristband it came with. This makes it look like a watch, and the coolest part is that Shine actually can be programmed to act like a clock, too.
Because Shine was designed to inspire people to become more active, its creators made sure to offer some great accessories so you can feel comfortable wearing it wherever. There's a necklace as well as leather wristbands in both tan and black. And, at Best Buy, Shine is exclusively available in additional colors including Silver, Black, Champagne and Topaz.
Shine is easy to sync with your phone once you download the free app. The hardest part, for me, was opening the packaging and trying to figure out how to get the battery in. It's really not difficult to do but I found the instructions themselves complicated and ended up going online to watch a video. The writing in the Quick Start Guide was just too small for my middle-aged eyes.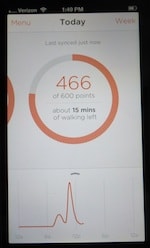 Once I finally got started, though, I looked forward to checking my progress each day. In the couple of weeks since I've been using Shine, I've noticed that, on the days I don't play tennis and can't get to Jazzercise, I will make it a point to get on the elliptical or walk around the block because it makes me happy to see those little dots light up and let me know I've achieved my goal. It's very empowering, and reminds me that the choice to be fit and healthy really is mine.
This holiday season, the only gem on my wish list is the Shine – in Topaz, of course.
Disclaimer: I received a Shine to review for this post. All opinions, as always, are 100% mine.