losing it!
When I first started Jenny Craig and Jazzercise, my goal was to lose 10 pounds by the end of my sponsored month.
Today was my final weigh-in of that month and – drumroll, please – I lost three pounds, putting me at a grand total of 10.6 pounds.
Even better, I'll be continuing the program, thanks to Nicole, Dawn and Kristen at Jazzercise and Ashley, Kathy, Penny, Marne and Mary at Jenny Craig.
I'll be introducing you to some of these amazing women over the next month – over which I'm hoping to lose another 10 pounds. I'll also be sharing more details about both programs, in case you're considering joining yourself (which, if you really want to change your body, you should).
Meanwhile, I'm feeling as joyful as my instructor, Kristen, below. And maybe, by next month, I'll even learn how to follow her arms and legs at the same time.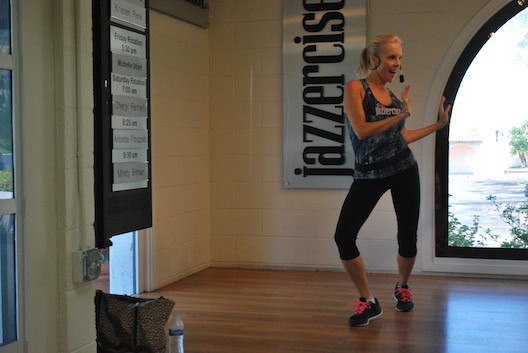 *I received a free month on the program in order to do this review. There was no compensation. The opinions expressed are my own and are not influenced in any way. Note: Clients following the Jenny Craig program, on average, lose 1-2 lbs per week.