silk iced latte: my personal barista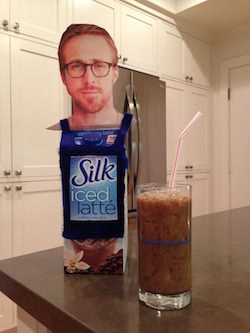 I spend half my life in coffeehouses – and probably enough money to, well, I'm not even going to go there.
So, when Silk offered me the opportunity to test their new Iced Latte coffeehouse drinks, I was wary but I grabbed my free coupon and headed to the grocery store. That first day, I picked up a half gallon of the Mocha Soy Latte and have since been back twice – sans coupon, mind you – for another one of those plus a half gallon of the Vanilla Soy Latte.
Here's why Silk has turned me into a homebody, and why my local coffeehouse's days just may be numbered:
* These soy lattes taste like a barista custom-made them just for me. (I've chosen Ryan Gosling to be my personal barista. A girl can dream.) As someone who enjoys drinking out of plastic cups with straws, this is a huge statement. I tend to dislike my own creations so the fact that I can just pour this into a large glass of ice and have it taste smooth, rich and just like I would have ordered it is amazing.
* A half gallon costs less than $5.00. That's about the cost of one drink at a coffeehouse. With all that money I'm saving, you'll now be able to find me at Anthropologie instead.
* An eight ounce glass of Silk Iced Latte is only 100 calories. And because I fill my glass to the tippy top with crushed ice, I bet it's even less. This means I can have one as an afternoon snack and one for dessert. The taste is so creamy and so delicious, a little goes a long way toward making me feel like I'm drinking something sinfully luxurious. Did I mention it has only 100 calories?
* Silk Iced Latte has brought me an extra 45 minutes a day, which I can now spend more productively than driving to the coffeehouse, finding a parking spot, waiting to order my drink, waiting to pick up my drink, then driving home. Think of all the writing I can get done – or all the shows I can catch up with on my DVR.
For someone who is as obsessed with iced drinks as I am, Silk is a life-changer. I do have one request, though. Silk, can you please start a punch card program? I'm pretty sure I'm already due for a free one.
#TasteSilk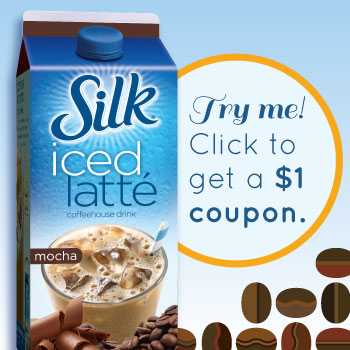 This is a sponsored conversation written by me on behalf of Silk. The opinions and text are all mine. This post originally appeared on my former blog, StyleSubstanceSoul.