jenny craig – again!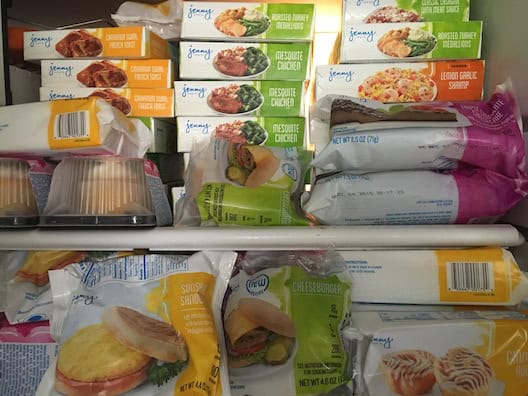 A friend of mine asked me how I don't weigh 300 pounds after all my traveling and press trips where half the activities revolve around food.
There is literally only one reason: Jenny Craig.
I'm back on the program after months of visiting cities from Nashville to Cologne, and I've already lost four pounds, even though our son was visiting and we ate our way through the weekend. (Okay, full disclosure: I kept my sneakers on for my original weigh-in because I knew I needed to see results this first week when I weighed in — barefoot. My counselor thought that was hilarious but was totally supportive.)
As you've seen before, Jenny Craig works so well for me because it's so easy and the food is delicious. Yes, the portions are much smaller than I eat in any given meal out anywhere but they're what I should be eating.
Because I'm a big snacker, I go through bags of baby carrots when I'm doing Jenny Craig. That may be why I still don't need glasses. Ha! I also really try to drink 64 ounces of water a day because I know it makes a big difference.
What really makes Jenny Craig work for me, though, is dessert. My first time around, I was addicted to the Triple Chocolate Cheesecake. As long as I knew I could look forward to that, I could get through the day. Right now, I'm going through a Chocolate Walnut Brownie phase. I don't even wait for them to thaw all the way because they're so good on these hot summer nights.
So, as I start on week two, I'm feeling hopeful that my jeans will soon be a little looser. As you can see, above, my freezer is full — and, thanks to Jenny Craig, so am I.
*I received a discount on my Jenny Craig food in order to do this review. There was no compensation. The opinions expressed are my own and not influenced in any way. Note: Clients following the Jenny Craig program, on average, lose 1-2 lbs per week.