Talking About Men in the Kitchen with John Donohue, Author of "Man with a Pan"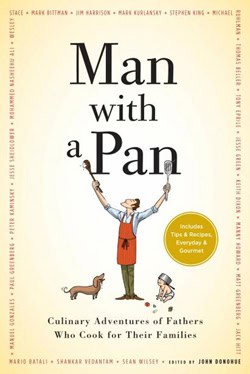 I love that you've made cooking so manly! Maybe this will start a whole new generation of men making dinner. Why did you decide to put together this book and how did you choose your writers?
I'm hoping that the book inspires men to cook more, and one of the things that I've realized about being a guy in the kitchen is that there's no one right way to do it. Being a man who cooks is very varied experience. I wanted a multitude of voices, which is why I made an anthology. I picked the writers because I admired their work. I was very fortunate to get to work with so many great authors.
I put the book together because when I first started cooking for my family, about six years ago, I looked around for a book that would give me tips and stories about being the man in the kitchen, and I couldn't find such a book. It didn't exist, so I created it.
There are so many fascinating stories told here. It's appropriate that Stephen King's contribution starts out almost like a horror story – he took over the cooking duties after his wife lost her senses of taste and smell, possibly due to the toxicity of the mill town in which she was raised. And Mohammed Ali's story is as much a tale of the evils of polygamy as an ode to food. Which stories resonate most strongly with you?
All the stories hit me in different ways. I think Mohammed Ali's story was the most shocking, and fascinating. Manny Howard's tale of roasting a pig for the woman he wanted to marry was very entertaining because it went so awry.
I sort of think men might be more experimental in their cooking and less likely to follow directions in a recipe, but that could be sexist! As you talked to men about cooking for their families, what differences did you find in their feelings or processes as compared to the way women cook?
Some men follow recipes, some don't, just as I'm sure there are some women who do and some who can't be bothered. One thing I have observed, though, is that women seem to like baking more than men do. It was hard to find a man who baked.
There are so many great recipes in this book. Which are your personal favorites?
My favorite recipe in the book is Peter Kaminsky's one for a Whole Roast Cow. I think it's important to have dreams in life.
Shankar Vedantam's essay, "The Hidden Brain: Gender and Cooking," is so enlightening – and disheartening, revealing that volunteers in an experiment imagine chefs at fine restaurants to be male and the person who makes lunch at home for a group of children is female. Hmmm. How do you think your book can help change those perceptions?
Vendatam's essay is remarkable because it so clearly illuminates our biases. We may not always be aware of them, but they are there all the same. My ultimate goal for the book is to get more people to cook at home. Someday it will not be a big deal for a man to be a home cook. For now, though, it is. The very existence of this book, I hope, will change that.
What do you find to be the hardest part about cooking for your family?
There are many challenges to cooking for a family, but the biggest one, far and away, is having to do it night after night after night after night. This has driven women crazy for years, and it is difficult to do without falling into a rut. My repertoire of recipes is fairly vast, but it is finite. Eventually we start repeating ourselves. I put recipes in the book so people would have a chance to broaden their offerings, and hopefully get out of their rut.
I really enjoy reading your blog, Stay At Stove Dad, and learning about your family, Nina, Pinta and Santa Maria! So, Columbus, how do they feel about joining you on this culinary adventure to a brave new world? What's been your most exciting discovery along the way?
Thanks! I'm so glad that you enjoy my blog. Santa Maria is delighted to be a part of this journey, and the kids are too. The kids might not be as aware as their mother of what's happening, but that's another goal of mine—to make it normal for the dad to be the cook. That's what they're growing up with.
What do you hope to teach your children about food?
That it can be a source of great pleasure, and that it's important to pay attention to what we eat because it directly affects the quality of our lives.