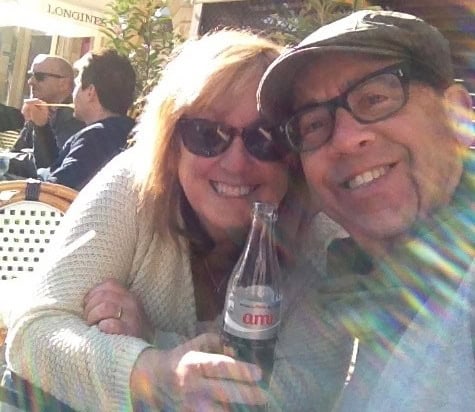 Bon jour! Michael and I just got back from two amazing weeks in France — one week on an incredible Viking River Cruise and a few days in both Aix-en-Provence and Paris. I'm pulling together pictures and notes, and will be writing tons about it to encourage you to add this trip to your bucket list.
Meanwhile, here's what I'm currently doing. Let me know what you're up to, too! [Read more…]
I'm a huge fan of Elizabeth Gilbert, as I shared again recently. I follow her on Facebook – hell, I would follow her anywhere – and was intrigued when she posted Maria Shriver's Q&A with her today. The questions were thought-provoking (and, of course, so were her answers), and she wrote, "Curious how you guys would have answered these questions."
Well, Liz, ask and ye shall receive. Here are my answers, and hope you'll all share some of yours! [Read more…]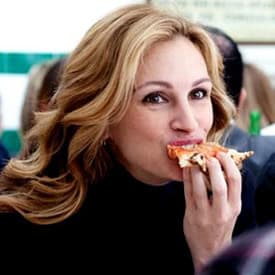 Susan on Eat
When trying to decide, at the screening, which one of us would review which section, I said, "Well,  it's obvious I should review Eat because I'm sitting here with a piece of pizza in one hand [given to me by one of our amazing subscribers] and popcorn in the other!"
I had not read Eat Pray Love before seeing the movie but I was certainly familiar with Elizabeth Gilbert's journey to Italy, India and Bali to find herself and discover the meaning of her life.  I wasn't going to know if the movie stayed true to the book that resonated so deeply with so many people, and I thought that would help me be more objective about the movie.  I was excited to be reviewing the Eat portion of her journey since I love both Italy and eating, but it took a while to get there because the filmmakers had to set the stage for why she needed to embark on her journey to begin with. We needed to see and feel her unhappy marriage,  her divorce from her husband and her new relationship with a younger man which starts out promisingly but ends up with her once again feeling stifled, unfulfilled and empty.
When she finally began her year-long journey of self discovery, I found I was feeling a bit annoyed with her decision to head abroad to find herself rather than stay in New York and do the hard work there with therapy and/or spiritual awakening (like the rest of us would have had to do).  I was letting my annoyance get in the way of how I viewed her stay in Italy.  Italy was supposed to be about relaxing, "learning to let go" and experiencing pleasure mainly through delicious food.  To me, it all felt a bit contrived: how quickly she made friends and how easily she made the transition to living in a foreign country. She didn't seem to struggle at all (suddenly, she was fluent in Italian) and I didn't sense as much "letting go" as I thought I would.  It was hard for me to see past Julia Roberts looking beautiful and slim (no weight gain that I could see) in this "learning to let go" period of Gilbert's journey.  The cinematography, however, was stunning and it made me want to get back to Italy as soon as possible.
After the movie was over and I sat and analyzed Gilbert's entire journey, I realized that this had been her personal  journey to take in whatever way she needed to take it.  Just because most of us can not leave for a year to fix ourselves and find our "center" doesn't mean I should judge the way in which she did it.  The fact still remains , though, that I much preferred the Pray and Love sections.
Lois on Love
Love may be all you need, according to the Beatles, but in Eat Pray Love, Elizabeth Gilbert has to go through a lot of pasta and meditation before she's ready to even consider that philosophy. The order of her journey is no coincidence; if you're lucky, love is always the happy ending.
As my husband and I approach our 29th wedding anniversary next week (feel free to tell me I don't look old enough to have been married that long, thank you), I have mixed feelings about Liz's decision to leave her husband in the movie – although I don't remember feeling that way when I read the book years ago. She doesn't want to try to make the marriage work, and because the movie doesn't give you enough background about his faults, you get the idea that she's a little selfish and self-absorbed, and just  isn't ready to share her life with someone else. It's impossible to say whether he would have been the right man if she met him later in Bali, or whether she would have divorced Felipe (Javier Bardem) if he was the one she had been married to at the time.
So it's hard to find a real message in this. Is love about timing? Is it about needing to love yourself before you can love someone else?
Although the Bali section of the movie, where Liz meets Felipe, is gorgeous to watch – the lush scenery, the rich textures and colors, Javier Bardem – it just feels superficial. Of course Bali is the right place to fall in love and of course Javier Bardem is the right man to fall in love with. But what has Liz really learned about herself on her journey that literally brings her to this place in her life? The movie never fully explores her transformation.
It's a sad fact that movies are rarely as good as the books upon which they're based – so it shouldn't be a disappointment that the celluloid version of Eat Pray Love can't compete with Elizabeth Gilbert's life-changing memoir. Reading the book is like being invited to share Liz's very personal and raw diary – she analyzes, obsesses, questions and feels deeply, and causes the reader to do the same. Watching the movie, on the other hand, is more like enjoying a beautiful travelogue in which Julia Roberts interacts with some of the most interesting men working in film today. You "ooh" and "ah," then go home, no richer for the experience.
There's a line in "Les Miserables" that makes me cry every time, that goes, "To love another person is to see the face of God." It nails — in less than a dozen words — what Eat Pray Love still can't really express in two-plus hours.
My husband and I may never take a boat ride to our own private island in Bali, and neither one of us is likely to have a magical encounter with an elephant in India. We will, however, spend our wedding anniversary getting ready to send our daughter off for her freshman year in college, packing up our son to move off campus, giving our elderly dog her insulin shots and then sitting down together to plan our empty nest over a couple of slices of take-out pizza. That, to me, is real love.
This post originally appeared on my former blog, StyleSubstanceSoul.