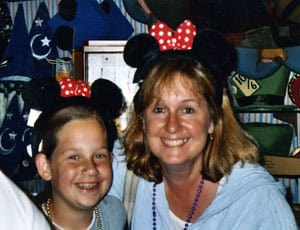 When Sara was two years old, she would leave her shoes by the front door before she went to bed and, in the morning, she'd point to them and say, "Go."
Whether we were going to the park, to the grocery store or just to walk the dog, Sara was ready. There was a big world out there, and she wanted – needed — to explore it.  When she went off to her first sleepover at a friend's apartment at the age of three, our doorman warned us she'd be calling us to pick her up in the middle of the night but we smiled, knowing that wasn't going to happen. Instead, she asked if she could stay another night.
Michael has always called Sara "a force of nature." Since coming into the world five weeks early with lungs so loud, the medical team left the delivery room, laughing, Sara has made her presence known. She wakes up singing, she is full of drama and she has her own, inimitable style. She is independent, outgoing and determined to make a difference.
So, by the time her senior year of high school rolled around, she couldn't wait to go to college, and we knew she was more than ready. I, on the other hand – um, not so much. How can you be ready for someone you've lived with for 18 years – someone who has brought you so much joy, enriched your life in so many ways and kept life interesting (to say the least!) – to no longer be there, providing the soundtrack to your days?
When we dropped our son, Alex, off at college two years ago, I sobbed like the baby I vividly remembered him being. When we left Sara last month, I cried again but it was different. I had come to an important realization. Although I was sad that I would no longer get to hang out on the couch with her at night or give her a hug just because, this wasn't about me. This was about her, and I knew that she was in the right place and that she would thrive. That was something to be happy – not sad – about, right? Isn't that what we had been working up to all these years?
With both kids now in college, our nest is officially empty. It's a weird feeling because I don't feel old enough for that (although, trust me, I am!). I've gotten so much advice about keeping busy, but here's what people get wrong about that: Busy is so not the point – I AM busy. Too busy. And that still doesn't make me miss my kids less. I miss them for their individual personalities, for who they are as people. I really like spending time with them, and I just miss seeing them on a daily basis.
I have genuinely enjoyed every stage of my kids' lives and can honestly say I'm enjoying this one, too. I talk to both of them almost every day, and love hearing about Sara's Javanese gamelan class and the coffee drinks Alex has whipped up at Midnight MUG. We're closer than ever even though we're 3000 miles apart.
Sara's shoes may now sit in front of a door across the country in a place where — be still my heart — she recently announced, she is "happy to the core of my being," but her real journey has just begun. And, although we're no longer holding her hand as she takes every step, we'll always be behind her — wherever she may go.
Michael says:
"So that's what her carpet looks like," I think, standing in Sara's bedroom, everything in its place, Sara now in her new place. She would hate that thought. She'd give me a "Daad!" at the judging, burn at the sight of me standing in her room, surveying, invading.
Lois and I arrived home from Boston just minutes ago — back from helping Sara move into her dorm, eight hours from hugging goodbye — and opened the door to our life now. Two kids, both on the East Coast.
I find myself here. In Sara's still room, looking for her, knowing she's gone but not really knowing. Seeing her clock, adding three hours to the time it is here, imagining what she would be doing at 11 pm. Mind-controlling has given way to mind-patrolling. It feels right having both kids on the same time zone. "They can talk more easily," I think, sitting at her desk. Grade school desk, finger-painted desk.
"We done good, honey," Lois reassured me — and likely herself — as we loaded the empty luggage into the car at the San Diego airport. There was plenty of room left over. We drove home holding hands.
"They're people of character, good people." I graded us all. Kids move away, habits stick around.
Tough as it is, letting go in the right way is our duty as parents. There have been many releasings. The bad ones are a tossing, 'Ok then, do it your own way, whatever, you'll see."
The good ones have an expanding, thin cord, invisible to all except you and them, so the kids know they can be close at a tug.
This one is different from all others. Both sides have the option to tug.
Our goodbye was not overly emotional, externally speaking. Tears but not torrents. "Think of it like camp," Sara reassured Lois and me and surely herself. And then she turned away. Slowly, I moved the car around behind her dorm, waiting, knowing, looking up at Sara's window on the second floor, waiting. There she was.
We waved, tugging slightly, testing the line.
Sara's fierce face playing softball still framed on the wall by her window. Sara's puffy white clouds still floating over her pillow. Sara's poems still taped over her desk. But it's all different now, standing in her room.
I like how neat it is.
"Daaaaaad!" I hear from 3000 miles away.
"I love you, Sara," I say from 3000 miles away.