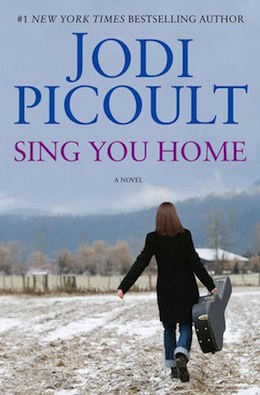 Don't forget to join us later today — 7:00 p.m. EST, 6:00 Central and 4:00 Pacific — for Jodi Picoult's exclusive Livestream interview.
We're thrilled to have been invited to be one of a select group of blog hosts for this special event, which is part of the Atria Literary Salon Series.
Celebrating the release of Jodi's 17th novel, Sing You Home, the interview will be moderated by book reviewer Bethanne Patrick, and will feature a performance by Ellen Wilber, who sings on the special "soundtrack" CD that comes with the book.
Jodi's novels, of which My Sister's Keeper is our all-time favorite, always deal brilliantly with the most timely and controversial subjects and Sing You Home is no exception. It's the story of a same-sex couple and their attempts to have a child which, sadly realistically, are filled with obstacles like prejudice, the religious right and the debate over stem cells. It's also a page-turner. I finished it in two days, and am still reeling.
Even if you haven't read the book, we hope you'll watch this special webcast on StyleSubstanceSoul.com. Jodi will be talking about all her novels, and will also be answering fans' questions, which you can just leave below and we'll forward them. Or you can post on the Atria Books Facebook page or tweet @AtriaBooks, using the hashtag #singyouhome. Please let them know you're SSS readers so we continue to get special events like this. Questions don't have to be about Sing You Home – this is your chance to ask Jodi anything you want about any of her books.
Autographed books will be available for purchase before, during and after this web event.  A portion of proceeds from each sale will be donated to Jodi's charity of choice, The Trevor Project, the leading national organization focused on crisis and suicide prevention efforts among lesbian, gay, bisexual, transgender and questioning (LGBTQ) youth.
Set your timer, your Blackberry or your alarm clock, and we'll meet you back here later today!
Leave a comment or question for Jodi below, and you'll be entered to win your own copy of Sing You Home.