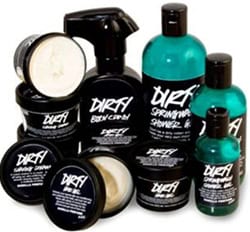 We love really clean, fresh scents so it's ironic that our new favorite is called Dirty. What's not surprising is that it's created by LUSH, which — with its focus on style, substance and soul — is pretty much the standard by which we measure all beauty products.
Dirty is a no-nonsense fragrance that takes the idea of layering to a whole new level. You can shower in invigorating spearmint and thyme, shave with soothing lavender and sandalwood, and style hair with tarragon and oak moss.  Once all of these products with their individual fragrances have been used, the combined scent will be that of Dirty, and can be topped off with the body spray, which contains all those main notes.
Because the collection is unisex, we've noticed our husbands "borrowing" the shaving cream and, after happily hitting the snooze button one extra time, replacing their morning shower with a few spritzes of Dirty. Yes, this is encouraged on the body spray instructions — and, we have to admit, they do smell like they just stepped out of a long, luxurious bubble bath. We, on the other hand, don't want to sacrifice what feels like bathing outdoors in a natural mountain spring so we spritz afterwards rather than instead of.
However you use this refreshing herbal scent, it will forever remind you of summer. You just may find yourself singing, a la Rocky Horror Picture Show, "I want to be dirty!"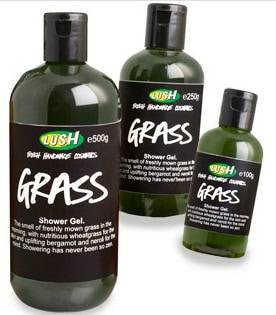 My husband has taken to gardening lately, which has given me a great excuse to sample these new products from LUSH.
The Grass Shower Gel smells as inviting as the fresh cut stuff, and is filled with tons of nutrients, antioxidants and enzyme-rich chlorophyll.
I've never been one for mud baths but quickly changed my minds after experiencing the soft and soothing results of Glorious Mud, a fizzy cube that you rub all over your body to cleanse and draw out impurities. Made of Rhassoul mud – a clay from the Atlas Mountains – it smells just like LUSH's yummy top-of-the-line body lotion, Crème Anglaise.
Ultrabalm is a must-have for gardeners, miraculously healing everything from cut cuticles to sunburn and chapped lips. It's pure and simple – no petroleum jelly or mineral oils – and it works!
The best thing about these little luxuries? You can buy them for the men in your life – and then use them yourself!
This post originally appeared on my former blog, StyleSubstanceSoul.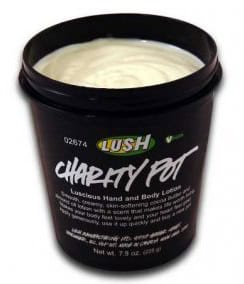 We never feel guilty slathering on Charity Pot hand and body lotion from LUSH because 100% of its proceeds go directly to worthy causes and we're happy to keep buying more.
The lid of each Charity Pot describes one of the organizations benefiting from your purchase. Our latest one told us all about 4 Paws for Ability, a group dedicated to enriching the lives of people with disabilities by the training and placement of service dogs. This made us want to stock up on Charity Pots! (So does the soft and creamy mix of cocoa butter and almond oil lotion.)
LUSH not only donates all of the proceeds from Charity Pots, but also the ingredients, packaging and the overhead costs to make the product. As if that weren't enough, they'll give you a Fresh Face Mask free if you bring back five clean black pots. What a deal!
Live a LUSH life!