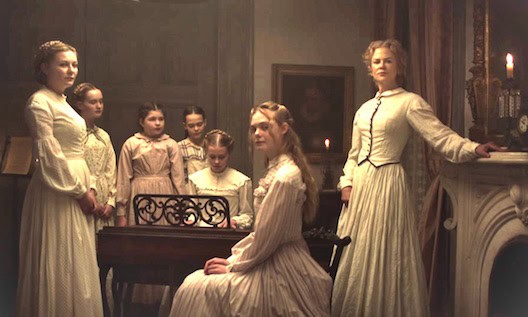 I loved watching The Beguiled.
I loved the actresses, I loved the costumes, I loved the moody cinematography, I loved the girl power, I loved Colin Farrell.
I did not, however, love the movie. [Read more…]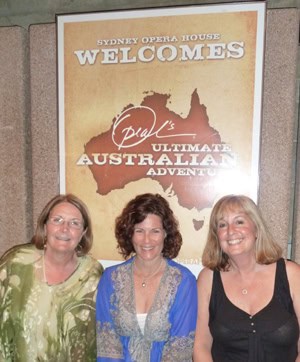 This was the day we had all been waiting for – we were going to be VIP guests at the two tapings of The Oprah Show at the Sydney Opera House. For Oprah's Ultimate Viewers, this really was the ultimate gift.
At 9 a.m. we were off to the first taping. The crowds on the street were as excited as we were, and they were screaming their welcomes to us and we were screaming our thanks right back at them!
With our yellow bracelets wrapped around our wrists, we were ushered to the VIP section – oh, we could so get used to this! – and were awestruck to look around and see 6000 audience members all smiling and laughing and feeling that same sense of gratitude and awe. Some Aussies had told us that it was harder to get tickets for this show than it had been for the Olympics! More than 350,000 people had sent in requests.
Sally Lou Loveman, who we remembered so fondly from that life-changing Chicago show taping back in September, warmed up the audience – which didn't seem to need much warming up! By the time Oprah came on the stage, we had been whipped into a frenzy!
For those of you who missed the first show, here's a quick recap: First up was the family of the late "Crocodile Hunter" Steve Irwin. I had interviewed young Bindi over the phone when her movie, Free Willy 4, was released on DVD, and was so impressed by how charming and articulate she was. In person, she, her little brother and mom set off an emotional torrent that just got more intense when Jay-Z surprised a compassionate boys' school teacher with a special appearance, and Oprah presented the students with a million dollars worth of laptops and computer equipment.
Russell Crowe visited next, followed by Christian and Rachel Anderson. Christian was battling cancer, and Oprah gave the couple a check for $250,000 so they wouldn't have to worry about bills and could just spend time together with their two little boys. We were in tears watching the video Christian had made for Rachel.
Next up was Bon Jovi, singing hits "It's My Life" and "Living on a Prayer." We were sitting in about the twelfth row so we can assure you that, yes, Jon Bon Jovi is still one of the sexiest men alive. As if all of that wasn't enough, Oprah ended the show by presenting the entire audience – all 6000 of us – with an exclusive pearl necklace from Kailis engraved with "Oprah The Farewell Season." We get so many compliments every time we wear it, and it is so meaningful to us because of the incredible memories it represents.
We were emotionally spent – and there was another taping coming up in the afternoon! After lunch in the Opera House (how lucky were we?), Susan went back to the hotel to call her husband and have a good cry (I think I was teary for a good three quarters of the trip but will probably have my breakdown sometime down the road when I come back down to earth), but Amy and I decided to use the couple of hours in between tapings to do some shopping! We found the fantastic Aboriginal Art Galleries at the Sydney Harbour, and spent all our time – and money – there, buying earrings, scarves, journals, artwork, boomerangs … we could go on but, suffice it to say, we spent enough to warrant a tax refund at the airport the next day. It was a good thing we had bought the extra suitcases!
After a quick change, we were back at the Opera House, this time sitting in the fifth row center – hello, Oprah! – and, because this would be the final show, we were ready for anything. We had a great time talking to the two Australian mother-daughter pairs sitting in front of us who had won the ticket lottery and were beyond excited. They had just found out that they had been selected to upgrade their seats to the VIP section, and they were feeling as crazy happy grateful as we all were to be sitting there!
We had to rehearse what would be the grand finale – a gigantic Australian flag unfurling over us while a children's choir sang "I Still Call Australia Home." We prepared for the waterworks to flow because we knew this would be a huge emotional moment.
Oprah came out, looking like a queen, and brought out her first guest – Bono! What a thrill! Next, making a grand entrance that would make headlines all over the world, came Hugh Jackman, speeding down a zipline from the top of the Opera House to the stage. Unfortunately, he smashed right into something hard and we got an up-close and personal view of it. Ouch. It was actually really scary and when he turned around, his eye looked awful. He was so gracious, and said it was completely his fault because he got a little overenthusiastic. What a gentleman – and what a cutie! Even the young male paramedic couldn't resist hugging him when he went onstage to help him!
Nicole Kidman and Keith Urban did their first interview together with Oprah, and they were adorable. Olivia Newton-John was equally adorable – and she's a shocking 62 years old now! She showed off the black leather pants she made famous in "Grease" – how could those tiny little things have ever fit anyone?!
The road trip ladies – who are as sweet in person as they were on TV – were sitting in the front row, and Oprah presented them with limited edition Australian Colours pink diamond "O" necklaces from Rio Tinto's Argyle Diamond Mine. And then she presented them to the rest of the 6000 audience members!
Then came the big moment when the kids' chorus started singing "I Still Call Australia Home," accompanied by Hugh, Olivia, Keith, Nicole and Russell Crowe. The star power on that stage was dazzling. When that flag starting unfurling over our heads, it was magical.
The Ultimate Viewers were the first to leave the taping, and the crowd's reaction as we walked out of there brought us to tears. We could totally feel the love as they waved to us, clapped for us and screamed for us to come back soon. One by one, they were calling out, "thank you," and we were calling out, "thank you" back to them. We were yelling, "We love you" to them and they were yelling "We love you" back at us. It was just a surreal moment and the perfect end to our trip.
Except we still had one big surprise in store for us.
After an evening of collecting email addresses and phone numbers, taking photos and packing up all our memories, it was time for the first group to leave for the airport. We were in the later group so Amy and I took a quick walk through the Botanical Gardens, then Janet and I visited the Sydney Museum. We didn't want to miss a thing!
We traded in our Australian phones for ones we could use back home, praying that all our photos and video made the conversion. Then we were off to the airport, where we stocked up on Tim Tams to share with our families and friends.
While we were waiting at the gate, our group was ushered together and we knew something was up. Suddenly, to everyone's shock, Oprah walked over. She didn't know why we were so surprised, saying of course she had to come say "goodbye" and "thank you" to us. Really?! She totally did not have to do that, and the fact that she did shows what a class act she is. We were so touched.
She thanked us for being the "ultimate Ultimate Viewers," and told us to expect some post-Australia depression. She encouraged us to hold this experience in our hearts forever, and to build on this momentum and spread the love. I said we would pay it forward and she repeated, "Pay it forward."
So that is what I'm going to do in both my personal life and through this blog.
I hope you'll join me as I pay it forward and make this the gift that keeps on giving.
Epilogue:
Watching the four Australia shows on TV last week was in some ways even more emotional than actually being on the trip. It made me realize just how big this experience was, and how incredibly blessed I was to have been chosen to be there. I have not taken one minute of this gift for granted.
I am on Facebook with my 299 new friends every day, not just reminiscing about the past but planning how we are going to use the incredible energy of this group to make a difference in the future.
I am so grateful for the love and support of my friends, families and readers, who have encouraged me to share my stories – and who keep asking for more, even when I feel I must be boring you to death. You have all made this experience even more meaningful to me.
The main reason I wanted to devote so much space to our Ultimate Australian Adventure is to show you that anything really is possible. I am living proof that dreams do come true.
So dream big, send your dreams out into the universe and watch the magic happen.