You are here:
Home
/
Archives for the stuff that never happened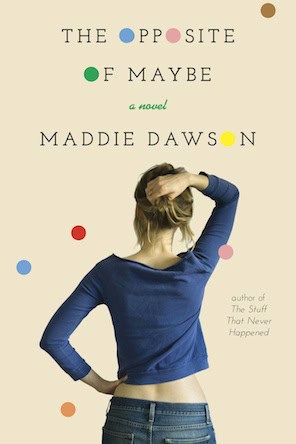 I loved Maddie Dawson's first novel, The Stuff That Never Happened, about a woman who's been theoretically happily married for almost 30 years but is still kind of in love with someone she had an affair with decades ago. It's a fascinating, thought-provoking read, and I was sad to finish it because it was Maddie's only book.
Until now.
Her new book, The Opposite of Maybe, is another great story about a middle-aged woman re-thinking her life. I finished it in one cross-country flight, and am now sad again because I'll have to wait for Maddie to publish her next book.
Meanwhile, she's generously agreed to share her own personal story of second chances, and I bet it will resonate with so many of you. The idea of finding new possibilities at any age is why I'm passionate about Life Reimagined, and why Maddie's story is so important to read.
Maddie is also giving away copies of The Opposite of Maybe to two lucky Midlife at the Oasis subscribers. To enter, simply leave a comment below. The contest ends on June 14 at midnight Pacific time. Winner will be notified by return email. Prizes can only be sent to U.S. mailing addresses.
Here's Maddie's story: [Read more…]