5 books you'll want to read now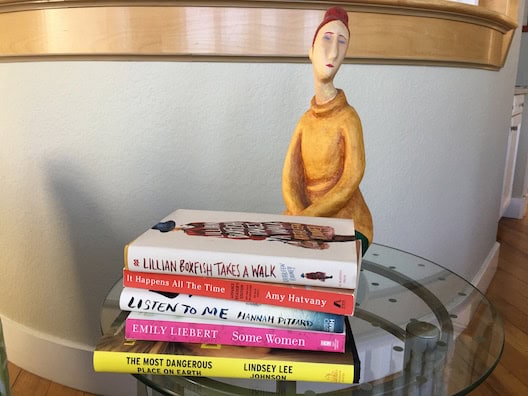 I'm finding that the only thing keeping me sane in these challenging times is reading.
Because I'm disgusted by the lack of education in our country — and, worse, the pride in that ignorance — I'm determined to keep learning, to keep seeking out different voices and to keep trying to understand the world.
I recently attended a One Day University course where professor Seth Lerer explained that reading teaches empathy, something we seem to be sadly lacking in these days. So please keep reading!
Here are a handful of books that kept my empathy level high in the past couple of weeks. Let me know what you think.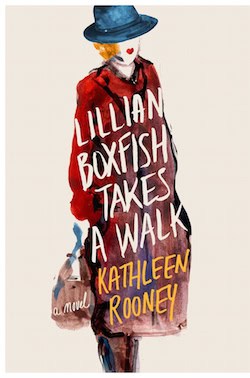 Lillian Boxfish Takes a Walk by Kathleen Rooney
As a New Yorker, a writer, a woman, a wife and a mother, I fell hard for this book.
The novel takes place on the last night of 1984, when sassy 85-year-old Lillian dons her mink coat and decides to take a 10-mile stroll around her beloved Manhattan. Back in the 1930s, she was an A-lister as a copywriter for R.H. Macy's and the highest-paid advertising woman in the country but now she often feels invisible and irrelevant. Based on real adwoman and poet Margaret Fishback, Lillian is sharp, funny and thoughtful, and her story is both a love letter to New York and a fascinating history lesson. It made me nostalgic for a time I never even lived through.
I wasn't surprised to learn that author Kathleen Rooney is also an award-winning poet because this book is so beautifully written, I tried to read it really slowly to savor the language. And, for the first time in maybe ever, I actually looked up all the words I wasn't sure about, picking up gems like Stendhal Syndrome which is the psychosomatic disorder caused when someone is exposed to an experience of great personal significance, particularly when viewing art. Trust me, you will always remember that term because you may be feelings its effects upon reading this stunning novel.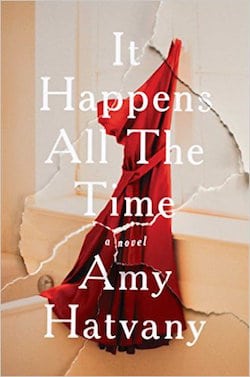 It Happens All The Time by Amy Hatvany
You know I'm a huge Amy Hatvany fan and am convinced she gets better and better with each book. This one is so timely and important, it deserves to be read and discussed by every parent and teenager –not just daughters but — maybe even more crucially, when we have a president who grabs women by their private parts and songs that excuse behavior because of "Blurred Lines" — sons.
The story alternates between the voices of Amber and Tyler, who have been best friends for years. Their relationship is strictly platonic, but they trust each other implicitly and share their deepest secrets — well, other than the fact that Tyler has always wanted to be more than friends. When Amber comes home, engaged, after graduating college, she and Tyler start spending time together again. One drunken night, unsure about her decision to get married, Amber kisses Tyler and everything changes.
I don't want to give anything away but this is a gut-wrenching story that begs to be shared and analyzed and internalized. It feels so real, and the characters and situations are absolutely relatable. I hope this book and the event at the center of it is talked about widely because, as the title so sadly reminds us, "It happens all the time." Maybe, if enough people read this, it won't.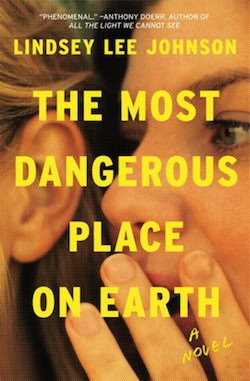 The Most Dangerous Place On Earth by Lindsey Lee Johnson
If you're watching 13 Reasons Why on Netflix, you'll immediately recognize that the most dangerous place on earth — at least for teenagers — is high school, where they're often forced to be someone they're not in order to survive the judgement and cruelty of their peers.
This chilling yet compassionate debut novel introduces us to students at a privileged school, and lets us in to really get to know the complex individuals behind their stereotypes. They're not just popular, nerdy, a jock — they're vulnerable flesh and blood characters who we end up caring deeply about. Johnson's writing is so sharp and the plot rings so devastatingly true, I hope it will serve as a wake-up call to adults to get off their cell phones and pay attention to these young people.
As a parent, I felt a growing sense of dread as I quickly turned the pages leading up to a party which goes tragically out of control. It made me feel grateful that my own kids grew up before every embarrassing mistake was able to be posted online permanently.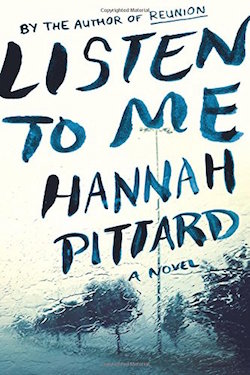 Listen To Me by Hannah Pittard
There's nothing like a road trip to test a marriage that's already cracking, and I felt like I was right in the backseat with Gerome, the dog — OMG the dog! — during this long, painful drive from Chicago to Charlottesville.
I love books that offer a real sense of place, and Pittard totally nails the loneliness and desolation of America's highways — and, at its worst, of marriage. As Maggie and Mark drive into the night, the mood becomes more ominous with tornado warnings and stranger danger at each turn.
Pittard is such a good writer that there are scenes in this book I will never forget. Her simple yet elegant prose and her impeccable attention to detail makes this moody and occasionally terrifying story so vivid, so visual, I feel like I just watched a movie.
I am all about female empowerment, and I happily breezed through this beach read about three unlikely friends who get each other through some of the most challenging times of their lives.
Annabel is shocked when her husband announces he's leaving her and their twin boys. Single mother Piper is shocked when her daughter's absentee father decides to re-enter their lives. Mackenzie is shocked when she realizes her marriage is not as strong as she pretended. And I was shocked when I discovered it was midnight and I didn't want to put the book down until I read how it ended!
I rooted for happy endings for all three characters, and really wanted to join the trio for breakfast at their favorite post-workout cafe. Liebert has written a celebration of friendship that made me call my own support system to schedule a long-overdue breakfast — minus the workout.