You are here:
Home
/
Books
/
Author Posts
/
"Burned: A Memoir" Author Louise Nayer Reviews "The Voice I Just Heard" by Susan Dormady Eisenberg
"Burned: A Memoir" Author Louise Nayer Reviews "The Voice I Just Heard" by Susan Dormady Eisenberg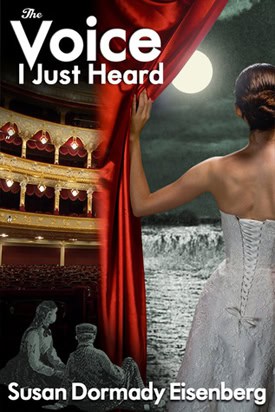 The Voice I Just Heard by Susan Dormady Eisenberg, centers around Nora, who, at the opening of the novel, is dealing with the terrible loss of her brother, Liam, in the Vietnam War. His untimely death threatens to derail the whole family as they sink into grief, but Liam's belief in his sister's singing voice and that, in the end, she will "land in the place just right" is what sustains Nora. Ultimately, this is a coming of age story about a young woman finding her true path in both work and love.
The writing is filled with poetic images, especially when Eisenberg describes Nora's dreams in which Liam appears and gives her messages. At the end of one dream, for example, she writes that "his hologram broke up like Kool Aid crystals in the wind." Eisenberg also describes clothes and food with great precision — "an airy lemon Bundt cake on a Limoges platter." There is an interesting juxtaposition between the tragedy of war and Nora's house, which is filled with the accoutrements of the upper-middle class. On the surface, everything seems nice. However, grief leaves its mark everywhere. Nora's parents do find ways to make sense of their son's death. Her father ends up visiting the Veterans Hospital and helping young amputees as they navigate life without limbs. Her mother finds a grief support group, and Nora finds her way back to singing. It is the evolution of the characters that makes the book so compelling. People change and grow, re-evaluating their lives and their choices and working hard not to get mired in guilt and sadness.
Just as Nora must learn to believe in herself and stand up to her father who thinks she should find another profession rather than singing, she also learns to make her own choices in love. Liam's best friend proposes to her, and she goes through a journey to understand her feelings for him and her passionate feelings for Bart, an older, divorced father of two. Some of the scenes with Bart are wildly romantic even as they make love on an Oriental carpet embedded with his children's play dough.
Nora learns that she needs to figure out her own life first, and studies opera at the Eastman School of Music.  She must find her own strength as an independent woman and become a confident singer. In that way, the story is about a woman becoming "whole" before she can form a healthy relationship with a man she loves.
The novel is filled with rich historical facts. The Vietnam War, with the conflicts between those who believed in the war and those who protested the senseless killing, sets the novel clearly in an explosive historical time period. That sense of time and place add depth to the characters' lives and to their choices.
Ultimately, the novel is about second chances – for Nora, in both her personal and professional life. Although Liam will not have a second chance at life, Nora's memories keep him alive as an important character throughout the novel. Her parents, devastated by their loss, find their way back to each other and create meaningful lives.
Readers will be caught up in this engaging story of a woman who has the courage to make difficult choices. Despite tragedy, she finds the strength to be who she was meant to be, to honor her brother and to "stand in the place just right."
Louise Nayer is the author of Burned: A Memoir. You can read our exclusive interview with her here.
This post originally appeared on my former blog, StyleSubstanceSoul.com.