elizabeth murray on living life in full bloom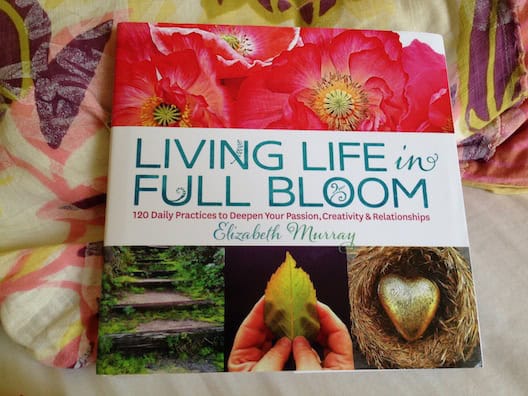 My friend gave me a copy of Living Life in Full Bloom: 120 Daily Practices to Deepen Your Passion, Creativity & Relationships, and – spoiler alert – I will be buying copies to pass on as gifts to people I love.
The book is filled with gorgeous photos and inspiring words which I have taken to heart and which have already enhanced my daily life.
Author Elizabeth Murray is best known for her contributions to the restoration of Monet's gardens, which she has been photographing annually for almost 30 years.
I hope to meet her in person soon but, meanwhile, here's what she had to say about Living Life in Full Bloom – the book and the practice.
I adore your book. It now sits on my night table and I spend time with random pages when I wake up in the morning and before I go to sleep. It's so inspiring.
Yeah! Delighted! Just the right place and use for it!
Why did you decide to write a book like this, which is pretty different from – although, in many ways, a natural progression of – your others?
I have been dreaming about and thinking about and praying about this book for years. I wanted to make a contribution. For me, it was this book, and I followed the Life Mapping process. Not easy, not fast, not lucrative, but the answer to what my heart and soul called me to do. It is what I believe in, what is most important to me and what I feel I can offer authentically that can benefit others.
You talk about four inspirational pathways in your book. How did you come up with those, and do you think each of us is a combination of all four?
From my heart, and yes.
The Gardener is about being close to nature. Even if you don't have a garden, you can love a tree, notice the sky, enjoy birds, observe the change in seasons. It makes you feel better. Your life begins to shift.
The Artist: I think we are all artists. Some of us just forgot or were told we had no talent. Making art invites us to play and experiment and be in the moment and stretch our imaginations.
The Lover is about leading with the heart and committing to what you love. If the main purpose of our life is to love and to create, which I think it is, Lover is a natural pathway. And I mean all-inclusive Lover – of life, elders, children, family, yourself, beauty, forgiveness, place …
The Spirit-Weaver is about bringing spirit and gratitude into each day, and can be as simple as saying thank you for your food, or saying a blessing or prayer. It is also kind of safety net – a matrix to catch you and a basket to hold all your blessings. When we have some sort of spiritual practice, our lives have more meaning, joy, and purpose.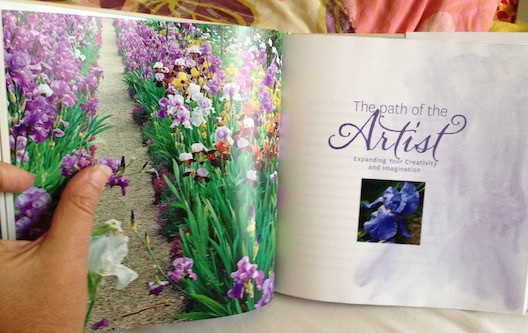 Not surprisingly, Living Life in Full Bloom focuses a great deal on nature. What does a relationship with nature give us? Why is it important?
Being in nature gives you back your awe and your connection to all. I want people to re-fall in love with nature and re-commit to taking care of our precious planet and each other.
Spending time in nature, whether watering your garden or taking a trek down the Grand Canyon, slows us down to a natural rhythm, and gets us in tune with our own spirit.
Nature has obviously played a huge role in your own life. Can you talk about your experiences with Monet's gardens and how they've influenced you?
To me, nature is everything – the source of life, grace and beauty, and God.
Stepping into Monet's garden, I fell in love, got a lump in my throat and knew I had to stay a year. I wanted to contribute to make it better and I wanted the garden to teach me. It was unpractical. I didn't speak French and I would have to give up my highly paid job as a top gardener/ artist and my fabulous house in Carmel. It was the biggest leap of faith – or strongest calling to follow my heart. I didn't get much encouragement – most people thought I was crazy. I had let something very authentic in me rise out because my personality and humor wouldn't come out in French.
The garden itself, the people, the country of France all cultivated me in a deeper, richer way then I ever could have hoped for. I never could have imagined how one dream would lead to another and that I would continue to photograph Monet's Gardens for 30 years, lecture about them all over the world, write two books about them, publish over 120 calendars on them and – the best – have 10 museum shows with Monet's paintings and the New York Botanical Garden Show a couple of years ago on Monet's garden with my photos. It has bloomed my life in all ways.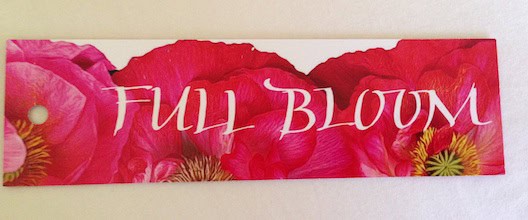 I loved reading the stories about the Full Bloomers. Why did you want to include them, and how did you choose those specific people? 
I wanted to include real life examples of people I know to show that living the four archetypes or pathways really is possible even if you aren't a gardener or painter, and that leading with your heart makes such a difference in the world and gives your personal life joy and meaning.
My criteria was they had to somehow incorporate all four pathways and make a contribution to the world in some way.
What makes this book really special to me is that it's so practical. You offer a "practice" for each idea, and each one is really do-able. Do you do these on a regular basis?
Each one of these practices has come from my life experience. Each practice subject is from my life. Some I have to practice and practice.
I continue to follow my Life Map as well as teach the process. I teach art and creativity and it keeps me playful as well as mindful. I photograph every day with my iPhone and layered Apps which is great fun, and I work in my garden several times a week. Each day I talk to God, have time in silence and am grateful.
What's the one message you'd like readers to take away from your book?
That their lives can come into Full Bloom with meaning and delight.
What's next for you? 
I want to bring the practices in my book out into the world and spread the seeds through workshops, talks and retreats. I hope to inspire people to start Full Bloomer groups – like book clubs – to help cultivate and support one another.
I also want to go back to painting, do more gardening at home and write a memoir!
Can I accompany you to Giverny next time you go?!
Yes, come along! But, first, come to lunch!