the fringe hours: making time for you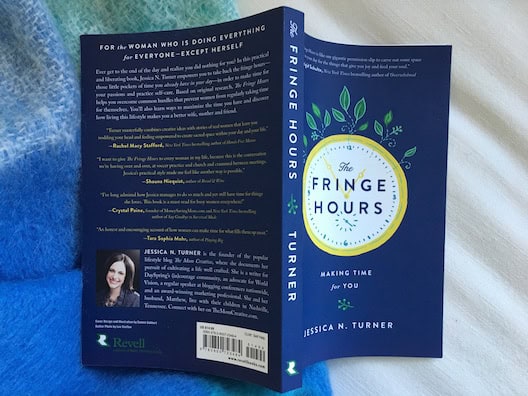 Although the holiday craziness is over, in some ways this time of year is even busier. We're trying to start 2016 off right by running to the gym, organizing our closets and signing up for classes.
But what we often forget in our desire for self-improvement is that one of the best things we can do for ourselves is slow down and take time to do the things we want to do rather than the things we think we should do.
"Yeah, right," you're thinking. "Like there's even 10 minutes in the day to do that."
I hear you. And that's why I jumped at the chance to review The Fringe Hours Collection from (in)courage, Hallmark and Revell books.
Created by Jessica N. Turner, founder of The MomCreative.com, this beautiful collection is grounded in a practical guidebook, The Fringe Hours: Making Time for You, and a thought-provoking little workbook, My Fringe Hours: Discovering a More Creative and Fulfilled Life.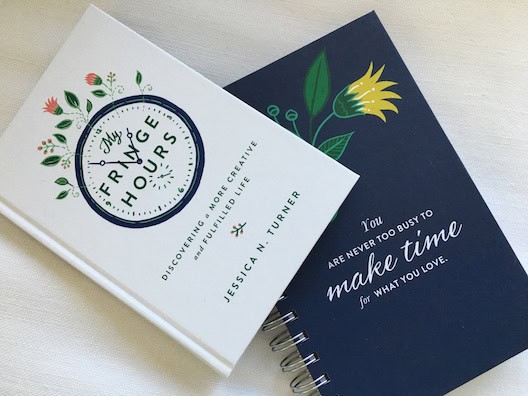 What I love about them is that Turner's philosophy, which is expressed in the opening quote by Charles Bixton, "You will never find time for anything. If you want time, you must make it," is not a call to add more activities to your day. In fact, she comes right out and says it's "not about doing more." It's about using your time to live the life you want.
As an empty nester, I'm finding this easier to accomplish. There's more time to read, to have lunch with friends, to treat myself to a massage. It's too bad we don't learn this earlier because, as flight attendants always tell you, it's important to put on your own oxygen mask before you can effectively help anyone else.
The Fringe Hours collection is all about self-care and making the time for it. With Turner's tips and thought-provoking questions, it's not as difficult as you think.
I downloaded her free time tracker — which you should do, too — to see how I was spending my time last week and was shocked to realize just how much time I spent on social media. Now, I know I rationalize this as "work," but if I'm being totally honest, all that time pinning pretty pictures and watching puppy videos is not helping my business. More importantly, although it's fun and relaxing for many hours a day a few minutes, it's not helping me live the life I want. It's just a time sucker. Time that could be used for things that are more meaningful for me
There are some great products that are also featured in this collection, like this To Do List pad, which makes list-making much more fun.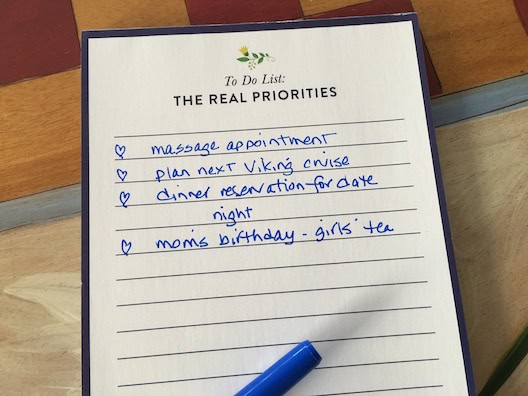 There are inspiring postcards to send your friends or just tape to your mirror.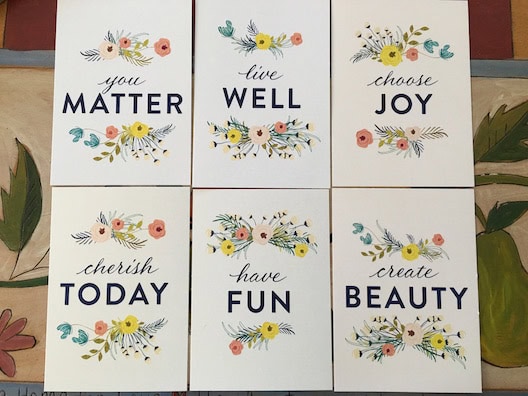 And there are these greeting cards and this pretty little pouch.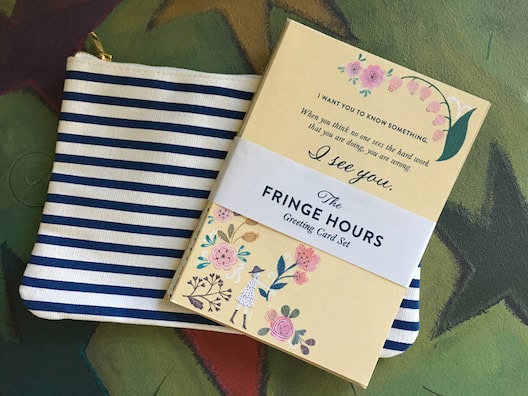 I think that card on top nails it since so many women make what they do look so easy, they never get the acknowledgement they deserve. Imagine how happy you would feel to get this in the mail.
This week, Amazon is offering The Fringe Hours e-book for just $2.99 so you may want to download it now. You can find the whole collection of products on DaySpring.
Because I see you and really want to encourage all of you to make time for yourself, I'm going to be giving away some of these products to lucky Midlife at the Oasis subscribers. (If you're not a subscriber, first sign up for my weekly newsletter in the right sidebar of this page.)
For a chance to win, simply "like" this post leave a comment below. For a second chance, tweet this:
Contest ends on January 17 at midnight Pacific time. Winners will be notified by return email. Prizes can only be sent to a U.S. mailing address.