have you read these books yet?
I should really consider taking an Evelyn Woods speed reading course — do they even exist any more? — because, even though I'm a fast reader, I can't read fast enough to get through the piles and piles of books on my shelves and my nightstand. There are so many books I want to read! Here are four great ones I've read recently.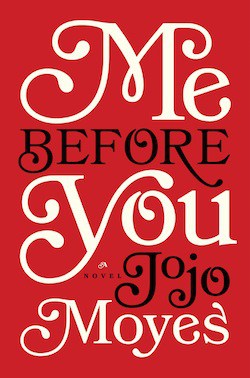 ME BEFORE YOU by Jojo Moyes
This is the kind of novel you share with all the women in your life, discuss with your book club, try to read slowly so you don't finish it so soon, then despair when you do because there's no sequel to follow it. It's the story of 26-year-old Louisa Clark, a working class girl in a small English village, who is content to be living an ordinary life. She takes a job as assistant to Will Traynor, a former powerhouse businessman now confined to a wheelchair. If you think you know what's going to happen in this unlikely love story, you don't. You will laugh, you will sob and you will think about your own life in a completely new way – and then you will want to go back to page one and start the book all over again.
THE SUNSHINE WHEN SHE'S GONE by Thea Goodman
Is there any new mom who hasn't yearned for time alone or a new dad who wants his pre-motherhood wife back? In this debut novel about a marriage in trouble, Thea Goodman takes that "what if?" to a whole new level when John lets Veronica sleep in one morning and ends up taking their six-month-old baby on an unplanned trip to Barbados for a long weekend. The story is told from both spouses' alternating points of views, and it's a fascinating and realistic look at the changes parenthood brings to each partner's life and to the relationship itself.
THE END OF YOUR LIFE BOOK CLUB by Will Schwalbe
As an avid reader, I love books about books, so I wasn't surprised to find myself totally immersed in this memoir about a very unique book club. When publishing executive Will Schwalbe discovered his mother was suffering from a fatal disease, he invited her to be part of an exclusive book club – with just the two of them as members. For two years, they shared and discussed the books they loved, learning about life, death and each other along the way. This is a stunning tribute – not just to the inspiring Mary Anne Schwalbe but also to the power of reading as a tool to help us connect, comfort and cope. All of Will and Mary Anne's book choices are included in the Appendix, and you will want to devour the entire list.
GIRLCHILD by Tupelo Hassman
The writing in Tupelo Hassman's debut novel is so stunning, I found myself reading certain lines over and over again in awe and admiration. The coming-of-age story – about young Rory Dawn Hendrix, an unlikely Girl Scout growing up in a depressing and dangerous trailer park in Reno – is raw and devastatingly real, and Rory is a survivor whose spirit remains undaunted. Hassman deserves a merit badge of her own for this completely original book. To quote a character named Pigeon, "I expect I'll be seeing a lot more of you, Rory Dawn." Readers can only hope.
Leave a comment below for a chance to win one of these books!