Books by Men!
Here's another nod to great books by male authors: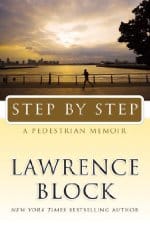 Step by Step: A Pedestrian Memoir by Lawrence Block
If it's true that to get to know a man, you have to walk a mile in his shoes, this is the book that will help you do it. Bestselling author Block takes you
with him on his marathon racewalks, and the experience is exhilarating.
You or Someone Like You
by Chandler Burr
This smart and provocative novel explores the idea of what it means to belong to a group, setting the tone of the story through a high-powered Hollywood book club. Raising lots of tough issues – of faith, religion, culture and literature – it may inspire the most meaningful discussions your own book group has ever had.
Why Diet and Exercise Fail
by Daniel Matthew Korn
We're not big on diet books but devoured this one because of its stick-to-the-facts scientific approach. We were a little shocked by Korn's conclusion – which is, unfortunately, hard to argue with – and may be changing our own habits starting with tomorrow morning's cup of coffee.
This post originally appeared on my former blog, StyleSubstanceSoul.