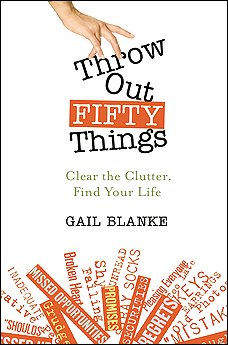 You know how people who don't cook love to watch The Food Network? That's how I am about organizing. I'm a Peter Walsh groupie, I've watched every episode of Clean Sweep and am now hooked on the OWN Network's Enough Already. Yet my clothes closets look like something out of Hoarders. Okay, that is thankfully an exaggeration – they're not dirty, just very, very full.
Because I am such a good packer (as my moving men told me when we made the cross-country trek 13 years ago), I have packed so much stuff into those closets that there is not one wasted inch of space. But try to find something or pull something out, and the house of cards comes crashing down – along with sweaters, t-shirts, jeans, handbags …
So when I got a press release about a book called Throw Out Fifty Things: Clear the Clutter, Find Your Life, I immediately requested a copy. I love lists and I love results that can be measured, so this seemed like the perfect way to finally get myself on track. I could easily throw out 50 pieces of clothing, and was so motivated that I actually did before I even received the book.
I started with my sock drawer which I had to practically pry open. What's so ridiculous about this is that I live in Southern California — and live in flip flops. Why would I possibly need so many socks? I immediately threw out every sock that didn't have a mate, anything with a hole in it or a stain on it. I threw out 27 socks without a thought – and I didn't even count the pairs as 2 pieces because I was enjoying the process so much! Then I went through the ones that were in good condition and put those I knew I'd never wear again (bright colors, novelty patterns) in a bag to donate. There were 12 pairs of those.
The sock drawer was so easy – and it now closed smoothly, which was a great reward for my efforts – I decided to tackle my t-shirts next. I have a ton of white t-shirts and tank tops because I play tennis in them and wear them under sweaters and cardigans. When the good ones get too raggedy to be seen, I just keep them as "under" shirts. It was time to get rid of those – remember what your mother used to tell you about wearing clean underwear?
So I threw out 18 white t-shirts and tank tops. I knew I had done the right thing because the pile was indistinguishable from the pile of rags in my laundry room. In fact, that's what I decided to turn them into.
Because I was on such a roll, I emptied all the rest of my clothes out of the closet and tossed them on the bed. That was too much. The sight was so nauseating and so overwhelming, I called a friend and went out to lunch with her to get myself psyched up for this sickening project.
When I got back and stared down the pile for a while, I learned a couple of things about myself. I apparently like to see lots of color in my closet — because I had bought a lot of colorful items that still had tags on them. I decided to put some colorful decorative items on the top shelf of my closet instead, and get rid of all the red, green, blue and purple clothes I knew I would never wear. There went a whopping 32 items. And here's a tip that really helped me: if you're not returning them, take the tags off your clothes. This will 1) prevent arguments with your husband, who will not know you've never worn them, and 2) remove your own guilt about never wearing them, making it easy for you to get rid of them.
While cleaning out, I realized – a little shockingly – that there were clothes I was really too old to wear any more. Out went the denim jackets and workshirts, the cutesy Nick & Nora pajamas with the rubber ducks on them (okay, full disclosure – I kept the bottoms to wear with a solid t-shirt) and the little, patterned shorts that had not been sexy in a long time. It was actually sort of liberating.
I know you're not supposed to hold on to clothes that you haven't worn in a year but I still have jeans in just about every size. I'm keeping the ones that I'm two sizes away from as motivation; they give me hope that I'll fit into them again as soon as I lose the baby weight. (My baby is now 18 – ha ha ha ha!!) Seriously, wearing them again is a big goal of mine, and seeing them on my shelf reminds me of that.
With ten bags of clothes – 112 items – to give away, I already feel lighter. I can stop re-buying clothes that I couldn't find before, and I don't have to hold my breath when I try to open a drawer.
I still haven't received the book but am already grateful to author Gail Blanke for a title that inspired me to un-clutter my closets – and, as a result, my mind. Just wait till the book comes and I get through my office …
Find more videos like this on Throw Out Fifty Things
This post originally appeared on my former blog, StyleSubstanceSoul.