happy birthday, mom!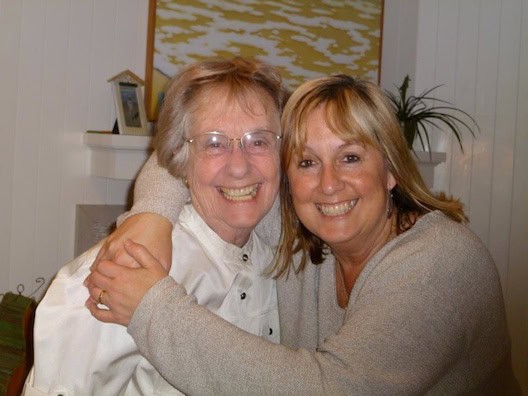 My mom, a.k.a. The Cute Tomato, turns 85 today.
She has always been my biggest cheerleader (she joined Facebook just so she could "like" all my posts) so I thought I would turn the tables today and rave about her for a few minutes.
My mom is so much fun, and she's up for anything. We volunteered at World Book Night together the past two years, we've taken spa weekends with my sister to celebrate our three January birthdays and, when I got tickets to see Katie Couric in LA, she did this to get us to the front of the line.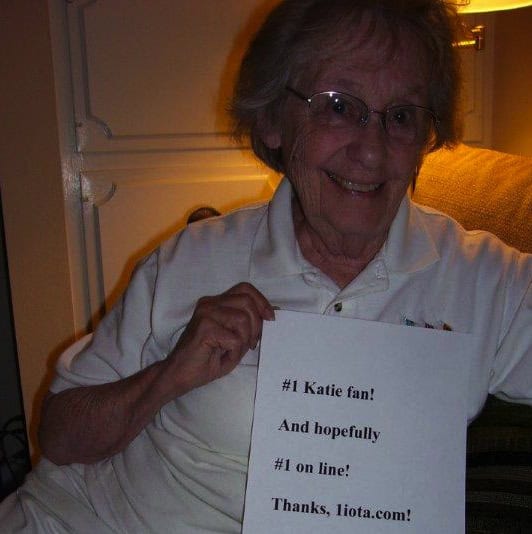 which naturally resulted in this: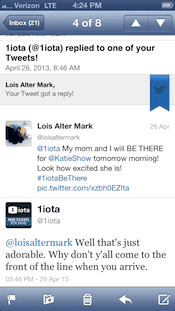 You see, everyone thinks my mom is adorable but she calls it like it is and pooh-poohs the idea that she's sweet. In fact, she does that about our whole family. "What about me?" asked my horrified daughter one day. "You're s-w," my mom answered in what is now a classic line. We are all striving to get to "s-w-e …" but will probably never make it all the way to "s-w-e-e-t."
My mom is all about family — and we're all about her. She is the cool grandma who not only knits afghans and bakes treats to send her grandchildren, but is up on the latest books, music and movie so she can talk to them about the things they're interested in. She also kicks ass at Wii Boxing and has knocked out a few of us.
Do not call my mom on Sunday night when Downton Abbey is on because she won't answer the phone. She and my dad binge watched the first four seasons and are now hooked. My mom's name may be Edith but her favorite character is Anna. And — SPOILER ALERT! — don't be surprised to see her as the Dowager's BFF later in the season.
My mom is up on what all of my friends are doing, and she often reads, comments and "likes" their blog posts. Because of this, many of them have sent her friend requests on Facebook which she won't accept because she's worried she will spend too much time on the computer, socializing. Don't take it personally. She only has two Facebook friends — my sister and me — and she makes me laugh so hard when she wonders why my newsfeed is so much more interesting than hers.
She is my most loyal reader, calling me to see why I haven't posted yet ("Your fans are waiting," she has said!) or emailing me with an urgent message when she catches a typo in one of my posts. I adore her for doing both.
I hope you'll leave a happy birthday message here for her because she reads every single comment.  I'm thinking of asking her to be my social media assistant.
Meanwhile, I'm just grateful she's my mom and that I get to celebrate her 85th birthday with her over lunch today.
I love her more than I sometimes show, and in my heart, am always doing this: