little miss sunshine!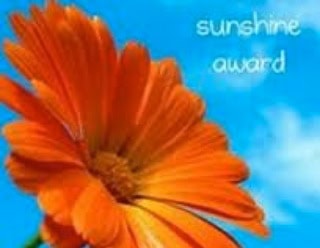 Winning Blogger Idol was such a huge deal that I'm still pinching myself over it! Yesterday, though, I received an award that's kind of related and, in a warm and fuzzy way, may be even more meaningful.
It's the highly-coveted Sunshine Award and it's so special because it was given to me by Real Life Parenting's Jennifer Hicks, my down-to-the-finish-line Blogger Idol rival (Ha ha! We had such a good time together on this journey that the idea of calling her a rival is just plain laughable.)
Anyway, the Sunshine Award is awarded by one blogger to another for, well, spreading sunshine. Awwww!
Accepting the award does come with responsibilities, though. First is to provide seven random facts about yourself. Considering I've already shared 25 bizarre facts in my About Me section, I can't imagine anyone wants to know anything else! But, hey, I'm not one to shirk my responsibilities, so here are seven more for your eye-rolling pleasure.
1.  I would seriously like to live in Anthropologie  – just for one night.
2.  I use "Layla" as my phone's ringtone.
3.  I love paper and have no intention of ever giving up my Filofax.
4.  I've never lied about my age but have often lied about my weight.
5.  Since we moved to San Diego, I've turned into a weather wimp and usually sleep under three heavy blankets.
6.  I really want to see the Northern Lights.
7.  Nothing makes me feel better than lying in bed, holding hands with Michael.
Okay, I'm sure you're glad you now know those things about me. Next, I have to answer these seven questions.
1. If you could go back in time ten years and tell yourself one thing, what would it be?
Don't stop writing for magazines just because you're writing online.
2. What's your favorite ice cream flavor?
Mint chocolate chip, although Ben & Jerry's Boston Cream Pie is right up there. Phish Food, too. And I still dream about the sea salt with caramel ribbon at Salt & Straw in Portland.
3. If you were to take me on a date, where would we go and why?

We would go to a great movie at Cinepolis, where we would stretch out in our cushy leather lounge chairs, hold hands and share a large popcorn and Diet Coke. Why? Because that's the best!
4. Above all else, what are you afraid of?
Sorry but I'm not even putting it out there.
5. What would you do if you knew you couldn't fail?
I would probably spend the money to hire an amazing assistant so I could just focus on writing and she could brilliantly do everything else.
6. What has been your favorite age to be and why?
Every age has been my favorite as I'm going through it.
7. Coffee or tea?
I'm not a coffee drinker but I pretty much live on iced tea. If you're ordering for me at Starbucks: Trenta-sized, black, unsweetened, no water, extra ice, two Sweet & Lows, please.
And, now, the best part: I'm supposed to list 11 blogs that bring sunshine to my life. The hard part is there are so many I want to include so, to start with, I'm making it an even dozen. To whittle down the list further, I'm only going to include those who have lots of new posts now, and none that I've featured before (like An Empowered Spirit and Cranium Crunches). So, in alphabetical order, consider this part one:
* Musings on Motherhood and Midlife
You can also find many of my favorite writers at the wonderful Midlife Boulevard. And don't forget to visit my friend/former rival (ha ha ha!), Jen, who's got me walking on sunshine.
Since Facebook is now going to be charging blogs to promote their fan pages (which most of us can't afford to do), please be sure to subscribe to Midlife at the Oasis to stay connected. Just leave your email address in the space in the right sidebar where it says "Subscribe" for weekly-ish newsletters. Thanks! It wouldn't be an oasis without you!