kia presents lois and michael: a marriage in parallel texts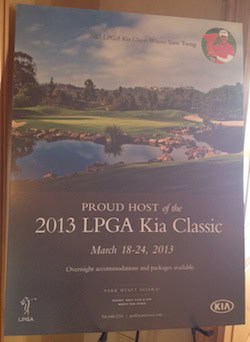 Michael and I have been married so long, we often finish each other's sentences. Apparently, though, that doesn't mean either one of us has any idea what the other one is talking about — as we were dumbfounded to discover today.
Kia had given us a 2014 Sorento to test drive, and invited us to take it on a road trip up to the LPGA Kia Classic Golf Tournament at the Park Hyatt Aviara for the weekend.
Because Michael was so inspired by the pros, he decided to leave and play a round himself while I watched the matches from the comfort of the Kia Skybox. It was the first time he got to drive the Sorento, because I had been hogging it since it was delivered.
Now, Michael is an avid golfer and has tried, for years, to get me more interested in the game. I thought it would make him happy to hear that I was having such a good time at the tournament and was really paying attention to the shots and the greens, so I decided to text him and share my enthusiasm.
This is the ridiculous conversation that ensued. (My texts are in white, Michael's are in green.)
We were like toddlers engaged in parallel play.
So, on that note, I sighed, he probably rolled his eyes, and we went back to our respective activities – grateful that driving and watching professional golf both discourage the use of cell phones.
Note: Please excuse the messy cutting and pasting. Michael, disgusted, had already deleted the whole thing and I don't know how to do a screen grab on my old-school Android so we had to recreate the whole conversation on his iPhone. Yes, these are the kind of activities that take up our time as empty nesters.
Read about my experiences at the LPGA Kia Classic here.
Read about my infatuation with the Kia Sorento here.
This post originally appeared on my former blog, StyleSubstanceSoul.