you have questions, i have answers (though not necessarily the right ones)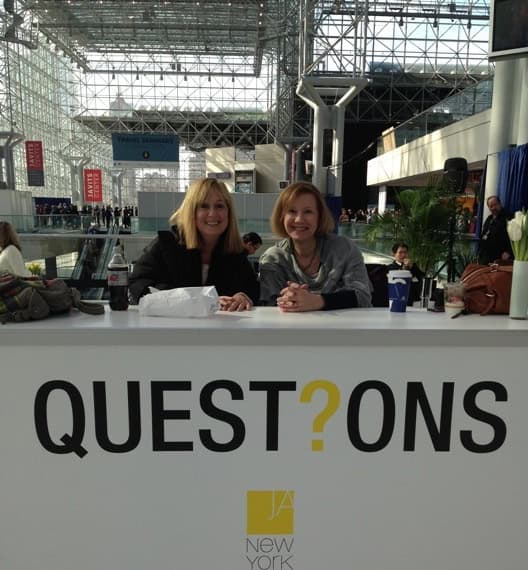 I may have found my new calling.
My friend, Helene, and I arrived at the JavitsCenter early Saturday morning so we could grab Starbucks and just hang out together before the New York Times Travel Show started.
We walked around and noticed a nice, big, clean counter with stools behind it and thought it looked like a good place to sit. As we sipped our coffee and iced tea, someone came over and asked us where the Travel show was. We explained we didn't work there but we did happen to know where the show was so we gave her directions. She thanked us, and we went back to our drinks.
A few more people stopped by and. again, explained we didn't work there but, yes, we'd be happy to point them to Starbucks, the ladies room and the jewelry show. We were stumped by one of the shows and, after apologizing for not being able to help, we continued our conversation.
We were getting tired of being interrupted so when another woman came over and asked about that same show we knew nothing about, I said I was sorry but we didn't work there and didn't understand why everyone kept coming over and asking us questions.
"Well, it says 'Questions' right there in front of you," she replied, pointing to the gigantic sign we had apparently overlooked when we sat down.
We looked at each other and burst into a bout of OMG-stomach ache-inducing laughter. We asked the woman if she would please take our picture and we promised to find out where her show was. I posted the question on Facebook and, immediately, one of my friends texted me to say it was downstairs in the JavitsCenter.
At that point, Helene and I felt we had a responsibility to fulfill and we just went with it. We settled into our chairs and answered dozens of questions enthusiastically and patiently. People were friendly and appreciative, and I had to hold back tears of laughter as an admirably composed Helene offered especially helpful information about the plastic holders that were available outside the Travel Show Expo for attendees to slip their badges into.
And every time we looked at that photo, above, on my phone, we burst into hysterical fits of laughter. My mascara was running down my face and my stomach muscles were spasming but we parked ourselves in those seats and answered questions until our first seminar was about to start.
As we left our posts, we congratulated ourselves on a job well-done and wondered what the JavitsCenter would have done without us. We realized we were really good at answering questions, and that we should continue this valuable service (!) on our respective blogs.
So, today, Helene and I are here to answer questions. About anything. (I know I don't have to remind you to stay tasteful.)
We take our jobs very seriously so bring them on. Leave your question in the comments here, and feel free to ask Helene questions on her blog, Books is Wonderful. While you're there, check out her side of our Thelma and Louise adventure.
And don't forget to engage with us on Twitter using #askloisandhelene
This public service announcement has been brought to you by Lois Alter Mark and Helene Cohen Bludman, the self-proclaimed women with all the answers. Ha ha ha ha!!