pinterest: my new obsession
I love Pinterest.
When I say that – which I do often and which is obvious to my Facebook friends from my seemingly endless pinning activity – some people want to know why. They just don't see the appeal, and I can totally understand that because, at first, I didn't, either. Until I saw the light — or, rather, the enlightening "Art Journals," "Great Libraries" and "Tea Shoppes and Patisseries" boards.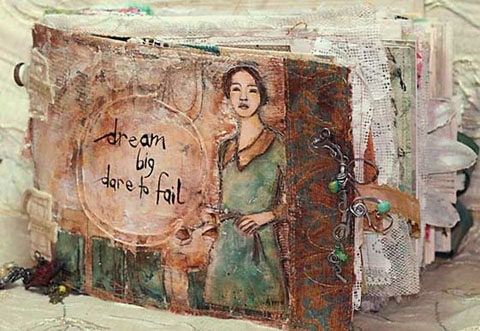 Let me back up a little for those of you who have somehow missed the Pinterest revolution. Pinterest is a social media site that is basically a virtual bulletin board. You create themed boards – books, recipes, crafts, dogs you think are cute – and every time you see something you like on the web, you "pin it" to your board with a little widgety thing that takes a few seconds to install. When you see something you like on someone else's board, you simply click to "re-pin" it on to yours.
For those of us who have always cut out pictures and articles from magazines, this is like a dream come true. You get to have all the stuff you love in one place – no more files and piles of papers – and it's so easy to find what you want. Just looking at my boards makes me happy. (In fact, I repinned someone's directions about how to make a board PDF and, honestly, I would love to make a digital book of them.)
I admit I first joined Pinterest as a business tool. According to Mashable, Pinterest generates more referral traffic to websites than YouTube, Google+ and LinkedIn – combined. Since a whopping 97% of Pinterest users are women, this seemed like a great place to build our online community, and it has been.  I each have a "Midlife at the Oasis" board, and I have "Books Worth Losing Sleep Over," "Going to Australia with Oprah" boards that generate a lot of traffic, too.
All of that is really great. But on a personal level, I am deeply inspired by so much of what people pin. I used to scrapbook and I've made a couple of quilts, and through Pinterest, I have found so many new projects I want to do. People, for the most part, are great about crediting sources and posting links to tutorials. I've also added a list of must-see spots to my own "Oh, the Places I Want to Go" board.
Pinterest can be like one gorgeous coffee table book, and it's often enough to just scroll through images, "ooh"-ing and "ah"-ing. But it takes a little effort to make sure you're not inundated with pictures of things in which you have no interest. It took me a while to reach this point but I've learned how to turn Pinterest into my own custom gallery.
When I originally joined Pinterest, I mistakenly thought the purpose of the boards was to let people know who you are, what you like. So, of course, my first Board was "Why I Should Have Been an Anthropologie Major," and I filled it with pictures of everything I like from the store. Although my feelings for Anthropologie are as strong as ever, that board is my least favorite because I specifically went looking for pictures to pin to it. The thrill of Pinterest is in the discovery – it's coming across a picture someone has pinned and gasping. (Okay, that may be a little dramatic although, well, I have done that.)
To open the door for that discovery, though, you have to follow people who have the same interests as you. When you join Pinterest, you automatically follow everyone you're friends with on Facebook or Twitter. Now, just because you're friends with them doesn't mean you care about all their boards. Edit. Don't follow boards that bore you, and when someone re-pins something you like, see who they've pinned it from and follow the boards you like from that person. It's much easier than it sounds, and now when I sign on, I'm way less likely to see rows of pictures of baby clothes or celebrities or holiday decorations. Instead, I see beautiful destinations, handmade journals, great quotes.
I like to drop in to Pinterest throughout the day (and night) to see what's new. It's like walking through a museum to me. I do think it's important to just pin the things I really love – it seems like it would be very easy to become a hoarder here. And I also want to use Pinterest as a kind of vision board and make sure I actually do some of the projects and visit some of the places I've pinned.
Meanwhile, I plan to keep pinning my hopes and dreams here – along with pictures of Julia Child's personal library and an adorable chair covered in fabric scraps.
You can follow me on Pinterest at Lois Alter Mark.