"miss you like hell" at la jolla playhouse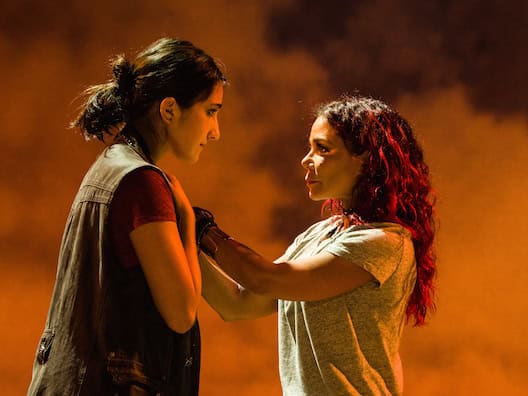 As we all know,  there are few things as emotionally charged and inherently dramatic as the mother-daughter relationship.
So it's no surprise that Miss You Like Hell, La Jolla Playhouse's new, highly-anticipated world premiere musical, is a combination of funny and sad and poignant. Plus, it's got some great songs.
Pulitzer Prize-winning playwright Quiara Alegría Hudes and songwriter Erin McKeown have teamed up for a story about a mother-daughter road trip which is, of course, as much a journey into the two women's hearts as it is a drive from Philadelphia to California.
You see, Beatriz lost custody of Olivia when she and her husband split, and, after four years apart, she unexpectedly shows up at 4 a.m. to whisk Olivia away for some quality time together. Sixteen-year-old Olivia is wary but figures she can use this as a way to get to visit Yellowstone National Park, which has always been a dream of hers.
Along the way, they meet an eclectic group of people and Olivia learns that Beatriz needs her to testify on her behalf in a deportation hearing. Olivia blogs to her devoted readers, the "castaways," during their trip, getting support and advice from their comments.
Beatriz, played by Tony nominee and original Rent cast member Daphne Rubin-Vega, is a fiery whirling dervish who speaks fast and confidently in two languages. With her hair flying and body constantly in motion, she's riveting. Krystina Alabado, who made her Broadway debut in Green Day's American Idiot, has a beautiful voice but it felt like she was sometimes holding back.
I loved when the two reminisced about the Sundays they used to spend together at the museum, and when Olivia admitted she felt that Beatriz was the eagle to her Prometheus in the painting, Prometheus Bound.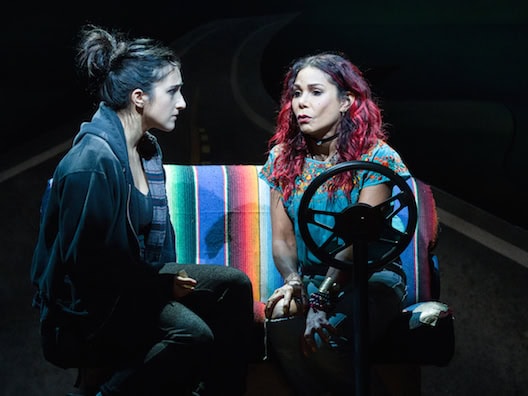 I wanted to feel more of that vulnerability rather than their frequent — yet, admittedly, funny — snark, like when Beatriz tells Olivia, "The comb is your friend," and Olivia replies, "The number you have dialed is no longer in service."
The story's success really depends on the chemistry between Beatriz and Olivia, and I have to admit it wasn't always there for me.
I saw Miss You Like Hell the night after the election, which made Beatriz' potential deportation take on an even more powerful global significance.
"This is exactly the right time for this powerful, moving new musical that embraces our ever-evolving identities as families and Americans," said Playhouse Artistic Director Christopher Ashley.
Despite its imperfections, Miss You Like Hell is definitely worth seeing. With its predominantly female creative team, what it does best, and most importantly, is show us what happens when we stop building bridges and start putting up walls.
Miss You Like Hell has been extended through December 4 in the Mandell Weiss Theatre. To buy tickets, visit LaJollaPlayhouse.org.
Photo credit: Jim Carmody