"the dinner" movie review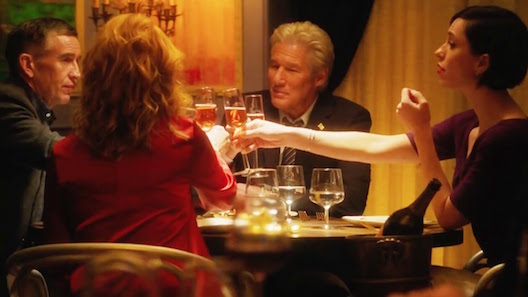 There's a really fascinating, thought-provoking plot line that's finally introduced late in The Dinner. It's shocking and timely and worthy of intense discussion.
If it were actually the focus of the movie, I would have been hooked. Unfortunately, by the time they got to it, I was so disgusted with the unlikeable characters that, like a few other uncomfortable dinners in my life, I just wanted it to be over.
The Dinner is over-seasoned with ridiculous, unnecessary scenes, and because it keeps pouring on the sauce, it ends up drowning in its own pretentiousness.
The movie is based on Herman Koch's bestselling novel — which, by the way, I couldn't stand, either. It's about brothers Paul (Steve Coogan) and Stan (Richard Gere), who get together over dinner (duh) with their wives (Laura Linney, Rebecca Hall) to figure out what to do about their sons, who have committed a horrific crime.
The brothers' relationship is strained, at best. Paul is a former history teacher who is apparently still suffering from the mental health issues that got him fired. He insults the staff, complains endlessly and is totally deplorable. Stan is a slick Congressman running for Governor, and he brings his assistant to the restaurant so she can continually hand him the phone and give him updates on a bill he's trying to get passed.
The restaurant Stan has picked is, of course, trendy to the point of "seriously?" Everything is over the top and the endless food descriptions, flashbacks and trips up and down from the table simply serve to distract from the reason the two couples are there. They need to talk about their kids.
Each parent's reaction is worth studying, especially in an age when we're raising children under an administration that doesn't care about anything other than lining their own pockets. Money and power trump compassion, and youngsters are taking it all in. How does that translate into their own decisions?
This is a story about wealth, entitlement, privilege, mental illness and so much more. It could have been — it should have been — an important contribution to the morality play/film genre. Instead, it fills up the screen with scenes like an interminable visit to Gettysburg that will make you want to get out of your chair and start ranting just like Paul.
The Dinner is unappetizing and unsatisfying. It will leave you hungry — but not for more.