"goodbye christopher robin" movie review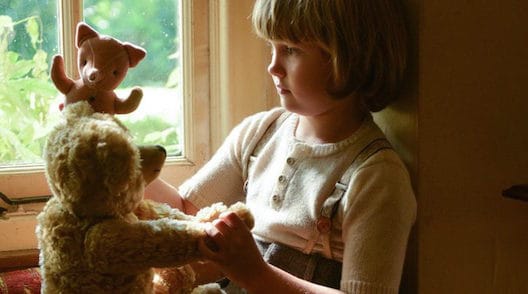 Winnie-the-Pooh and his friends are sacred to my family.
My son was obsessed with them when he was little, greeting Tigger at Disneyworld as though he were a long-lost friend.
We quoted the characters and discussed them in great detail, laughing about how one of us was acting like an Eeyore when we complained too much.
My son might even have been a smidge envious of Christopher Robin.
Well, although he's now 27, I hesitate to recommend Goodbye Christopher Robin (which I loved) to him because it just may traumatize him. He will certainly never wish to be Christopher Robin again, and he may actually feel guilty for all the attention he gave to the real boy's beloved stuffed animals.
I had no idea of the story behind Winnie-the-Pooh, which is dark and sad and completely at odds with how the hunny-loving bear made us all feel.
You see, A.A. Milne (Domhnall Gleeson) came back from the war with what would now be diagnosed as PTSD. A celebrated playwright, he decided, "I've had enough of making people laugh. I want to make them see."
His socialite wife, Daphne (Margot Robbie, who is so scarily good in the role of an uncaring mother who only pops in to bring her son stuffed animals that she haunted my dreams that night), can't understand his depression. "Life is full of frightful things," she tells him. "The good thing is to find something to be happy about and stick to that."
She has a baby in an attempt to get him out of his funk but it doesn't work, and she's as miserable as he is. They move out to the country and she hires a nanny — the wonderful, sweet, everyone-should-have-someone-like-her-in-their-life Olive (Kelly Macdonald).
When Milne experiences writer's block, Daphne heads back to the city for a little fun, leaving him alone with his curious and absolutely adorable, dimpled son.
Thanks to Christopher Robin's brilliant imagination, his toys come alive during great adventures in the woods with his father. He names Winnie after the Winnipeg black bear they see at the zoo and adds "the Pooh" because that way, if he doesn't listen, it sounds like you're just saying, "pooh."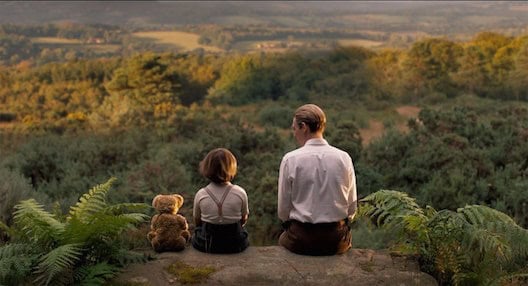 When Milne suggests calling his tiger, "Tiger," he changes it to "Tigger," explaining, "it's more Tiggerish."
Realizing the enormity of these child-like adventures, Milne invites his illustrator friend, Ernest, to spend a day with him. As he watches in awe, he says, "It's a little world, like you said. A hundred acre paradise."
They write When We Were Young, which becomes an immediate bestseller, much to Christopher Robin's dismay. "He's my bear," he exlaims. "Why don't they get their own bear?"
Suddenly, Daphne is back in the picture, thrilled with the family's newfound wealth and fame. Christopher Robin is pushed into making endless publicity appearances and is called "the happiest boy in the world."
Um, he's not.
Does this look like a picture of a little boy having fun?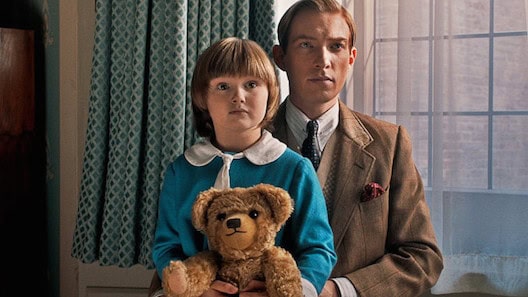 After a terrible adolescence in which he's bullied relentlessly, Christopher Robin and Milne have a heart-to-heart talk that is just devastating.
Milne tells him their days alone together were the happiest he'd ever known, to which Christopher Robin says, "Yes, but you sold them and made my life a misery."
His story became everyone's story. It reminded people what innocence and happiness was — at his expense.
"Childhood was wonderful," admits Christopher Robin. "Growing up was hard."
Goodbye Christopher Robin is beautiful and painful and magical and, like the Winnie-the-Pooh books themselves, full of wisdom and life lessons.
If only his father had heeded Eeyore's advice that "A little Consideration, a little Thought for Others, makes all the difference."