a special gift from the crafted cup company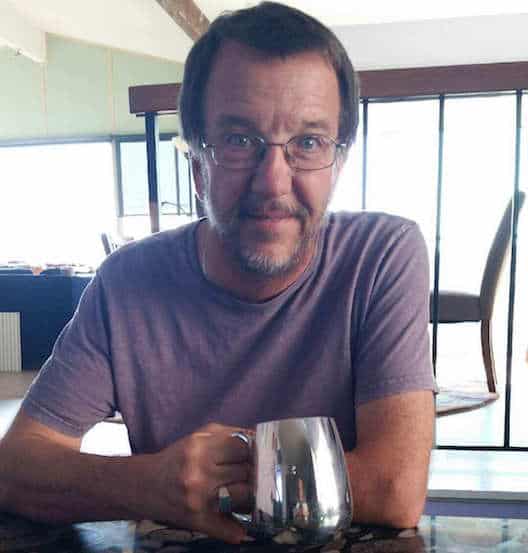 Thanks to The Crafted Cup Company for sponsoring this post. 
All opinions are, as always, 100% mine.


I have no problem finding great gifts for the women in my life, yet it seems like I'm always struggling to find something interesting for the guys.
I want a gift that's unique yet practical – something personal that makes the recipient feel like I picked it out just for him.
So I was excited when The Crafted Cup Company, makers of the finest handmade tankards and mugs, invited me to review one of their gorgeous pewter tankards – because as soon as I saw them, I knew they would be perfect for our friend Dan.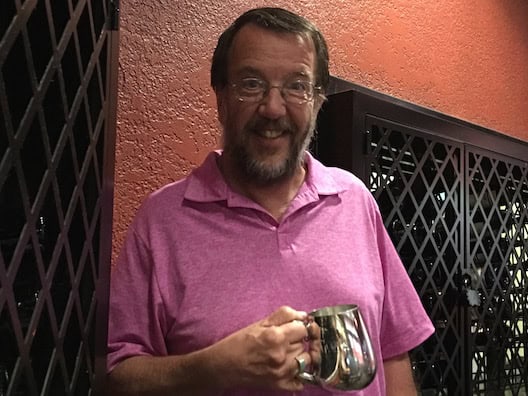 The Crafted Cup Company believes that great craft beers deserve to be enjoyed in equally great craft vessels, whether they're pewter tankards or ceramic mugs. (They even have Mint Julep Cups!)
Dan believes this, too. He's been brewing beer at home for 25 years, and we distinctly remember him once telling us, "You drink with your eyes first, so the presentation is important." (Okay, he's told us this way more than once.)
We spent a lot of time on The Crafted Cup Company website, admiring all the amazing options and trying to choose the ideal one for him. We knew he would love the 19 ounce Stout Tankard because 1) he's a big stout fan 2) it's stunning!
Handcrafted from a single disk of superior grade lead-free pewter, it's so unique that the company warns it may actually be too unique for traditionalists who want a classic tankard shape!
That sounded very appealing to us. In fact, when it arrived, I was glad we had opted to have it engraved with Dan's name because I was very tempted to keep it for myself. It's so simple yet sophisticated, and I would love to display a set of these tankards on our kitchen shelf.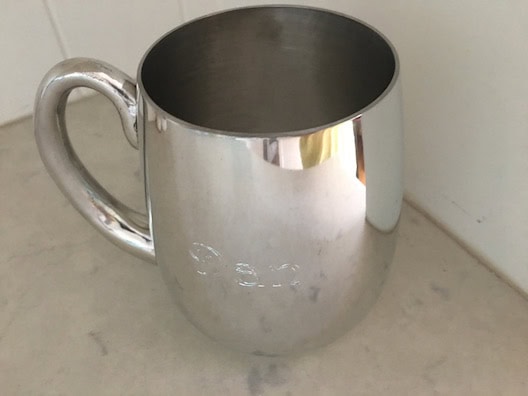 But, alas, we packed it up and presented it to Dan at dinner the other night. He was smitten.
In fact, he was so happy with it, he whipped up some of his delicious home-brewed beer for us. And now we just may have to buy a couple of tankards for ourselves.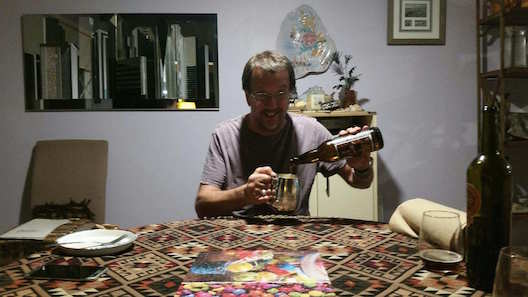 Thankfully, The Crafted Cup Company is offering Midlife at the Oasis readers a special 15% discount right in time for the holidays. It's good for every single item, and even includes free standard shipping. This is a great time to buy gifts for the hard-to-shop-for people on your list – and to stock up for your own holiday entertaining.
Just head to The Crafted Cup Company website and type in code OASIS when you check out. The code is good until December 31, 2017 – but don't wait!
If you can check the most challenging people off your list first, you'll have lots of time to relax with a drink in your own beautiful tankard from The Crafted Cup Company this holiday season!
Note: So it turns out that pewter is pretty difficult to photograph — but I assure you the engraving, in person, looks stunning!