"indignation" movie review and giveaway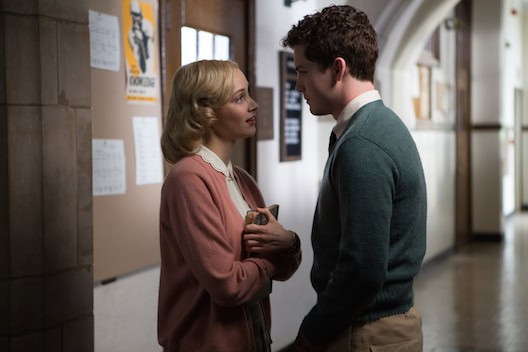 It's so refreshing to see a smart movie with a thought-provoking story and well-written dialogue.
I guess it shouldn't be a surprise that Indignation is that kind of movie since it's based on a Philip Roth novel.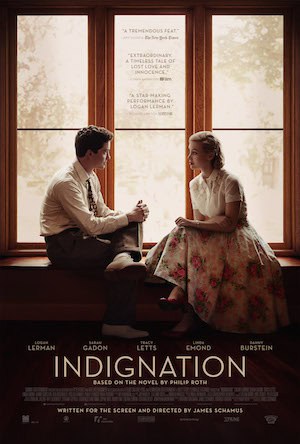 The story takes place in 1951 and revolves around Marcus Messner (Logan Lerman from The Perks of Being a Wallflower), a brilliant and very intense young Jewish boy who's working at his father's butcher in New Jersey before heading off to a small college in Ohio on a scholarship that will exempt him from being drafted into the Korean War, where so many of his peers have already sacrificed their lives. His father worries obsessively about him, which is driving him crazy.
Marcus has trouble adjusting to his new life, though. He's placed with the only other two Jewish students who don't want to be in the Jewish fraternity, yet he doesn't get along with them. He falls in love with Olivia Hutton (Sarah Gadon), a non-Jewish girl with a reputation. He gets into trouble with the Dean for criticizing the Chapel requirement, explaining — in a fantastic scene that shows off Lerman's star potential — that he believes "prayer is preposterous" and that he is "sustained by what's real."
All of the performances are excellent, and I couldn't take my eyes off Gadon who lights up the screen in a gorgeous wardrobe of cardigans and skirts.
It's no wonder Indignation was a hit at Sundance and that it's got an 80% Fresh on Rotten Tomatoes.
Thanks to Roadside Attractions, I'm happy to be giving away an Indignation prize package. One lucky Midlife at the Oasis subscriber will win a $50 American Express Gift Card to see Indignation in theaters, plus the Official Soundtrack and a copy of the Movie Tie-in Book.
For a chance to win, you must be a subscriber to my weekly newsletter. If you're not a subscriber, first sign up in the right sidebar of this page. Then, simply leave a comment below.
For a second chance, tweet this:
Contest ends on August 15 at midnight Pacific time. Winners will be notified by return email. Sorry, but prizes can only be sent to a U.S. mailing address.
Indignation is now playing in select cities, and you can buy tickets on Fandango. Like Indignation on Facebook and follow the movie on Twitter. You can also connect with Logan Lerman on Twitter and Facebook, and with Sarah Gadon on Twitter and Instagram.