"my love, don't cross that river" movie review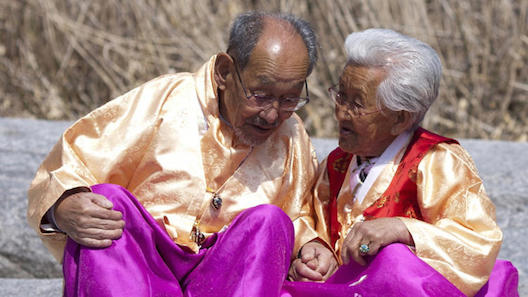 Michael and I adored My Love, Don't Cross That River.
From the first few minutes of watching "100-year-old lovebirds" Byong-man Jo and Gye-yeul Kang joyfully tease each other and play in the leaves together like children, we were as smitten with them as they were with each other.
It's no surprise that this documentary — and, honestly, I didn't realize it was documentary until afterwards — has become the biggest independent film of all time in its native Korea. It is one of the most beautiful and touching movies I've ever seen.
When we meet them, Byong-man Jo and Gye-yeul Kang are living a simple life in their little house by the river. Married for 75 years — 75 years! — their deep love for each other is still obvious. They fall asleep holding hands, they have snowball fights and they are so sweet to each other, it will make you cry.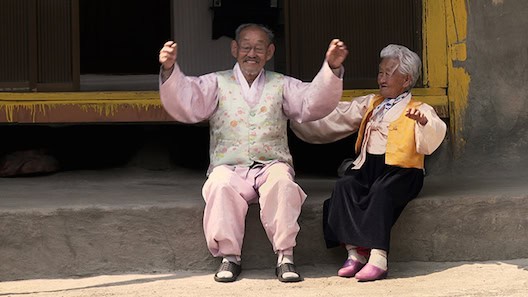 He sings to her while he waits beside the outhouse for her so she won't be scared in the dark. "You're a good singer," she tells him, caressing his face.
Director Moyoung Jin follows the couple as they quietly go about their daily lives. They are inseparable, attending picnics and dances, entertaining their children and grandchildren and going to the doctor. When her knee hurts, he blows on it. When he coughs, she rubs his back.
The movie is absolutely gorgeous. The colors are so vivid, from the flowers he picks for her to their matching silk outfits. They are the best-dressed couple ever, and you just want to reach out and touch the sumptuous fabrics.
"If we could stay in bloom forever, that would be great," he tells her but, sadly, the seasons eventually have to change.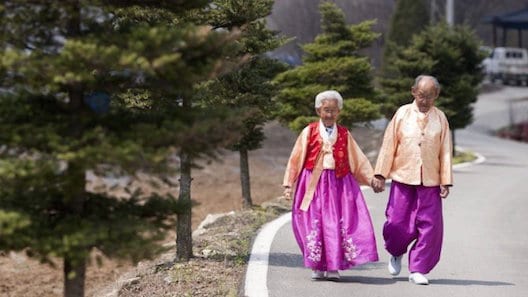 Although you know, given their age, one of them is bound to cross that river, it is still devastating when it happens and one is left without the other. I cried my eyes out and held on to Michael, sending out a silent wish to the Universe to give us time and to make sure we are always kind to each other.
Watch My Love, Don't Cross That River with the person you love. With very little action or dialogue, this beautiful little film tells you everything you need to know about what really matters in life.