"take my nose … please" movie review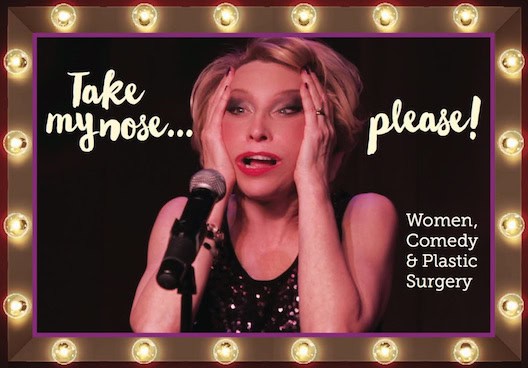 This must-see documentary about funny women who have had or are having cosmetic surgery is fascinating, often hilarious and sometimes devastatingly sad. (If you remember Totie Fields, you'll once again be moved by her tragic story.)
"Plastic surgery is supposed to make you feel good about yourself," says comedian Margaret Cho. "To me, it's just brainwashing, manipulation and mutilation of women."
She waits a beat, then adds, "I'm still going to get it."
And there's the heart of the story.
Cosmetic surgery is a $16 BILLION industry in the U.S. alone, with women undergoing the vast number of procedures. Take My Nose … Please places no judgement on those women, simply exploring their motivation, their fears and their hopes.
Former Allure editor Joan Kron edited this subversive film — AT THE AGE OF 89! — and it's both powerful and revealing.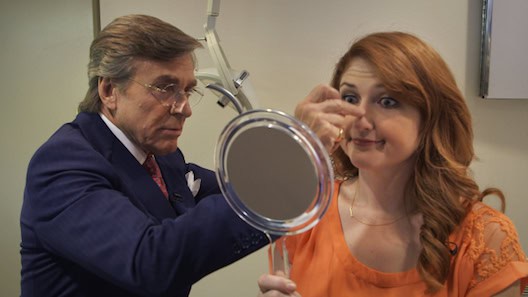 Kron follows improv comedian Emily Askin as she prepares for a nose job and a wedding. "I can almost feel my nose dragging me down to the ground," she admits. "I've always wished I had a straight nose."
Although she's happy with the results afterwards, she gets teary when her fiance simply shrugs and says she looks fine. He loved her the way she was, and isn't that all someone can really want from another person?
Askin shares her experience with her colleague, Jackie Hoffman, who's been described as the "Queen of Self-Loathing," and is debating having the procedure done, as well. She refers to herself as "ugly" and decries the fact that "the world favors pretty people." During a consultation with a plastic surgeon, who shows her what her new nose would look like, she says, "The nose is pretty but does it make me pretty?"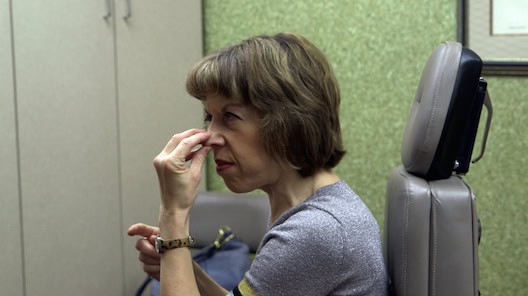 It's heartbreaking to hear these talented women put themselves down, and Kron talks to one after another to discover why so many comedians have cosmetic surgery and then talk about it so freely in their act. She features old interviews with some of history's greatest funny ladies, showing how nothing has really changed over the past few decades.
"Many women who don't like their looks turn to comedy," explains Phyllis Diller. "They're making fun of themselves before someone else can."
It's no wonder someone says "female stand-up comics are the bravest women in the world. They're in the business of telling the truth."
The truth, as Take My Nose … Please makes abundantly clear, is that the one that really needs a makeover is our society.