"wonder woman" movie review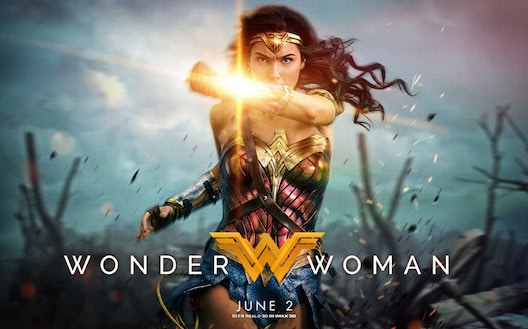 Let me start this by saying I have never been into the whole Marvel/DC comics thing. The only comic books I read when I was younger starred Betty and Veronica, and the superheroes I admire are real-life human beings whose super power is kindness.
I have little interest in the testosterone-driven stories of good men fighting bad men to save the world. At some point, they all blend into each other, alienating female audiences who know that, really, the world could be saved if regular men just stood up for what's right.
But then Gal Gadot came along as Wonder Woman, and the world has suddenly become a little bit brighter. Could there be a better superhero for our times? She's an Israeli Jew and even her name screams female. She's not a white guy!
Because I'm not a comics fan, I didn't rush out to see the movie. But I watched, in awe, as friend after friend posted on Facebook about crying through the movie and walking away feeling empowered. I "liked" the photos of them — and their daughters — posing with the cardboard cutouts in the theater lobby and, days later, wearing the tiaras they picked up — for themselves! — at Target.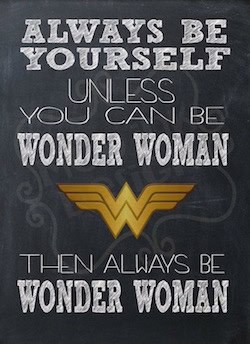 I watched, in awe, as my Twitter feed filled with hashtag #WonderWoman tweets about everyday women who were considered superheroes to the people in their lives. As moms, as nurturers, each one of us is Wonder Woman.
I watched, in awe, as women-only screenings sold out, causing disgruntled men to whine about discrimination. I watched, in awe, as Wonder Woman sailed past Iron Man to boast the fourth biggest opening weekend of all superhero origin stories and to become the best opening ever for a female-directed movie.
And, finally, I watched, in awe, the movie itself.
Your eyes will light up as soon as you see Themyscira, the stunning women-only Mediterranean island where young Diana lives with her mother, Hippolyta (Connie Nielsen), queen of the Amazons who have been tasked with the sacred duty of saving the world. You may even start fantasizing about creating a similar community of your own.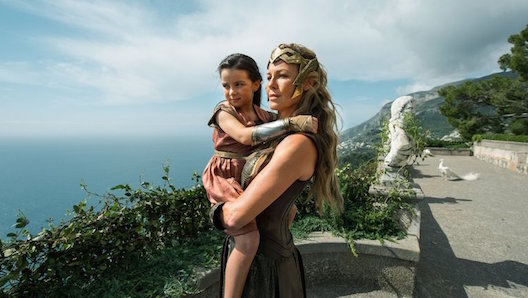 Much to Hippolyta's dismay, Diana's goal — just like all female viewers' — is to be like her aunt, Antiope (Robin Wright), a fierce warrior who lovingly tutors her to be able to protect herself. It is impossible not to immediately develop a girl crush on Wright, and I would happily watch a movie that takes place entirely on this island.
As soon as Diana sights and saves Steve, a drowning German soldier (Chris Pine) who's really a spy for the Allies, you know life is about to change. I was reminded of that devastating line in Little Bee about "When the men come …"
I, along with all the other mothers in the audience, got teary when Diana prepares to leave the island to fulfill her destiny and Hippolyta tells her, "You have been my greatest love. Today you are my greatest sorrow."
There are so many important messages for little girls AND BOYS in this smart, funny and compassionate superhero saga. When Steve tries to mansplain to her and says, "I can't let you do this," she matter-of-factly replies, "What I do is not up to you."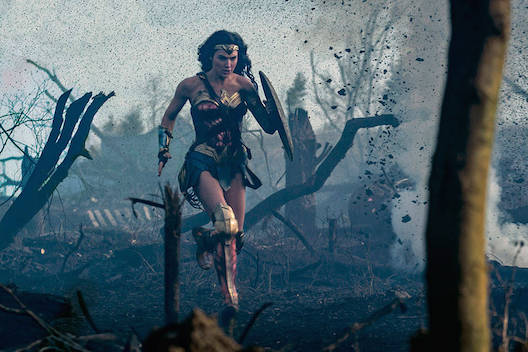 Of course, it would be better if Wonder Woman didn't have to don that ridiculously skimpy little outfit — seriously, can you imagine having to save the world while wearing anything strapless, never mind that tight little number riding up your backside? And those boots? Next time, can we just cover her up a little and give her a pair of comfortable sneakers?
Other than her outfit and ability to defeat an army of men, Diana/Wonder Woman is surprisingly down to earth and relatable. She genuinely doesn't understand how people can be so cruel to each other — something most of us struggle with every day.Although some of the dialogue is sappy, it's hard to criticize a superhero who states, "I believe in love," is convinced that "only love can truly save the world" and says, "I'm willing to fight for those who cannot fight for themselves."
With this thinking, Wonder Woman is, ultimately, the superhero most likely to actually save the world. We need her. Most importantly, we need to be her.