and in the end …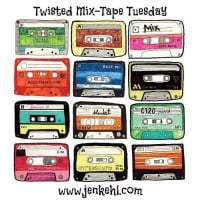 I was so sad when Jen Kehl announced that today would be the last Twisted Mixtape Tuesday for a while. Granted, I only discovered it a few months ago and have missed many weeks along the way, but being part of this passionate-about-music group has been such a great and meaningful experience.
As someone who remembers the events of her life by the songs that were playing at the time, I've loved putting together playlists for the weekly theme. I've also loved reading everyone else's lists and downloading lots of new songs — or ones I've just forgotten about — on to my iPod.
This week, we're talking songs about saying goodbye – even though I hope this is only a see ya later. The theme is, appropriately, Missing You, which, Jen, I will.
Here Without You by 3 Doors Down –  I love the lyrics, I love the chorus, I love the way they sing, "When  the last one falls, when it's all said and done …" Yes, I am a song dork. And I also really love their other Missing You song, Landing in London, and the line, "All I think about is you." Sigh.
Bright Lights by Matchbox Twenty – I'm a big Matchbox Twenty fan, and I think this is one of their best. The line, "Some things you don't need until they leave you, then they're things that you miss," gets me every time.
I Will Always Return by Bryan Adams – I know this is getting a little sappy now and I'm kind of mortified that I'm using a song from a Disney animated movie I must have seen when I was reviewing movies for NickJr.com, but I am making the same promise to Jen as … one of these horses promises the other? Whatever. To you, I will always return.
The Load Out/Stay by Jackson Browne – Best tribute to the roadies, the fans, the people who make concerts such incredible experiences. "And when that last guitar's been packed away, you know that I still want to play …"
And now, here we are, at the last song of the final Twisted Mixtape Tuesday. All that's left to do is send out a big hug to Jen for keeping the music alive and reminding all of us of its power to bring us together. I titled this post "and in the end" after the Beatles' song, and it segues perfectly into Jewel's "aha"-moment-lyric, "in the end, only kindness matters." Yes.
So, to Jen, with love and gratitude for all your support, encouragement and Twitter tags, this one's for you. xoxo
Kind and Generous by Natalie Merchant