"virunga"
As I watched Virunga the other day, I couldn't stop crying.
The Oscar-nominated documentary, which is now streaming on Netflix, features the very best and very worst of humanity — and both will bring you to tears.
Director Orlando von Einsiedel follows the deadly conflict in the Democratic Republic of Congo, where the M23 rebels have declared war and a British oil company is determined to get to the resources they are convinced are waiting under the land in Virunga National Park, Africa's oldest national park and home to the last of the world's mountain gorillas.
"Who gives a fuck about a fucking monkey?" laughs one of the oil men. The callousness and crudeness of his comment is so ugly and disturbing, it feels personal and will cut to the core of anyone who has an ounce of compassion. This cavalier attitude and complete disregard for nature is the reason there are only 800 mountain gorillas left on the planet.
THERE ARE ONLY 800 MOUNTAIN GORILLAS LEFT ON THE PLANET.
Thankfully, there are also people who do care enough to try to keep these magnificent animals safe. In fact, they care so deeply that 130 rangers have already died protecting Virunga, and the movie is dedicated to the memory of those guardians of nature who gave their lives to keep the gorillas from extinction.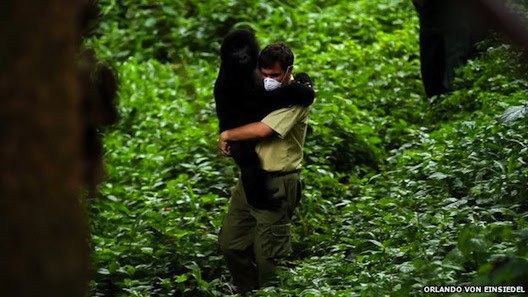 Virunga begins with the horrifying history of the Congo — a history laden with genocide and war and corruption and death.
Although Virunga is a World Heritage Site and oil-related activities are illegal, we see oil company representatives making promises to Virunga employees, bribing them to secretly join their fight in exchange for a piece of the action.
"It's the money that fuels everything," explains journalist Melanie Gouby, sadly, and we learn of poachers who kill gorilla parents so they can take their babies to sell.
The graphic images of dead and mutilated gorillas are devastating, but equally heartbreaking is the orphaned gorillas' fear at the sound of bombs exploding. They huddle together with Andre Bauma, their beloved caregiver (above), curling up into him like little children.
And, to him, they are. "I have my human family and I have this family," he says, with great affection. The interaction between him and the baby gorillas is precious. They laugh when he tickles them and they hold on to him with love. Anyone who thinks animals don't have feelings after watching this documentary is deluding themselves to alleviate their own guilt.
"You must justify why you are on this earth," says Bauma. "Gorillas justify why I am here; they are my life. So if it is about dying, I will die for the gorillas."
Hopefully, enough people will see this movie and become so outraged that no one will ever have to die for the gorillas — or any other animal — again.
There's a sobering scene in the movie when Gouby worries that people will read her article about what's going on, agree it's terrible but just move on.
Let's not let that happen.
Visit the VirungaMovie.com site to find out how you can help, and learn how to check your investments to make sure you are not inadvertently giving money to companies who are hurting the gorillas.