read my t-shirt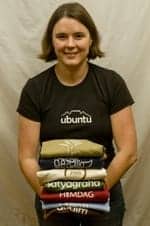 There's nothing more comfortable than a soft, cotton t-shirt and nothing that feels better than knowing how much good that shirt does. I recently discovered MotherTongues — don't you love that name?! — and knew these organic, free trade shirts that give back to charity were a big step up from my old concert t-shirts.
As a word person, I was intrigued by the messages the shirts were sending, but I'll let founder Michelle Hamman — a woman I want to be friends with — fill you in on those. I'll be reading her answers again while I'm curled up in the Ubuntu sweatshirt I'll be wearing one day on my bucket list trip to Africa 🙂
Why did you decide to start your company? What were the guiding principles behind it and why were they so important to you?
I'm a t-shirt wearing kind of woman, but I was not happy with the t-shirt choices available to me with text on them. I was looking to make a career change and started with a couple of "untranslatable" words on t-shirts. I started picking words with a life-affirming theme and realized that I can't use sweatshop t-shirts for words that speak about social justice. I researched the options available and switched to using Fair Trade, organic cotton t-shirts, since I think it is the most ethical choice. The words that I've chosen for t-shirts, have guided MotherTongues to become as ethical and sustainable as possible. The words have really shown the way for the company, and for me personally! It has been an exciting journey so far.
I adore the name MotherTongues! Tell us a little about where that comes from.
Right in the beginning, I only knew that I was going to print words from all over the world on t-shirts. I call Afrikaans my "mother tongue," and it stuck as a name for my business.
You were born in South Africa. How do you think that background influences the way you see the world and your place in it?
I'm born and raised in South Africa. I brought to the United States values of community and being that are different from North American culture. One example is the Zulu or Xhosa word from South Africa (and the first MotherTongues t-shirt): Ubuntu. Ubuntu is a term for humaneness, for being caring, compassionate, and hospitable. "I am because you are." I am convinced that one culture can educate another. I try to share those words on the shirts.
How is language used differently in South Africa? 
The majority of people in South Africa can speak more than one language. The country has 11 national languages. I've met people who can speak 5 or 6 different languages! There is a vibrant publishing industry, which regularly publishes in at least 3 languages.
How did you choose the words to feature on the shirts? Are there words you still want to use?
I search for interesting words during our travels, by reading lots of books and by asking people who can speak languages other than English whether they have wisdom to share with me. Yes, I have a lot more words I'd like to use! I recently made the World Words app, available for free in the App Store, which teaches you one word a day that cannot be translated into one English word. It is almost up to a full year of words.
Which word is most popular? Which one resonates most strongly for you personally?
Ubuntu. Definitely! This South African word was the first t-shirt, and will always be my favorite. Archbishop Desmond Tutu said the following about Ubuntu: "We believe that a person is a person through other persons, that my humanity is caught up, bound up, inextricably, with yours … Therefore you seek to work for the common good because your humanity comes to its own in community, in belonging." I believe in this communal concept: that we are more than the sum of our parts. I find it interesting that I've since found out that there are a lot of African languages with a word for Ubuntu. But I've never heard of the concept in languages outside of Africa.
Your t-shirts are great conversation starters! Have you gotten into any interesting conversations with people that you can share with us?
A friend has shared how the shirts are like a body prayer to him. Someone else has described her shirts as her mantra for the day. I've had people ask me about the words I'm wearing, because they like what the shirt is saying. I've also heard of people seeing others wear MotherTongues apparel as far as a little town in Ireland, and as close as Disneyworld.
You donate a percentage of profits to charity. Which organizations do you support, and why did you select those?
MotherTongues is committed to values such as cultural sensitivity, fair trade, ecological sustainability and economic justice. $1 of every t-shirt or apron sold goes to the Center for Women in Transition in Holland, Michigan. $1 of every Sisu t-shirt is donated to the American Cancer Society. MotherTongues belongs to 1% for the Planet and Green America. I think giving back to organizations that support peace and justice, is the right thing to do in light of the meanings of the MotherTongues words. You can read more about these organizations on the Giving Back page.
What's the most rewarding part of running MotherTongues for you?
The values contained in the MotherTongues words, such as encouraging healthy relationships (ubuntu, himdag, gezellig), peace and nonviolence (satyagraha), justice (shalom/salaam), spiritual growth (zen) and care for the environment (dadirri, lagom), transform me in the process. For example, learning about Lagom, a word describing the Swedish value of good-enough, made me realize I need a "just enough" mentality and not "more is better."  Learning about Zen made me live in the moment instead of worrying about the future. As I grow MotherTongues, the company transforms me.
Obviously, it is also extremely fun to hear from people who love their MotherTongues apparel!
Your shirts send so many beautiful messages. What message would you like your company as a whole to send out to people?
I hope to spread the message that we can all learn from various cultures with different ways of being than another culture. Wade David, a Canadian anthropologist, put it this way: "The world in which you were born is just one model of reality. Other cultures are not failed attempts at being you: they are unique manifestations of the human spirit."