Muttropolis — for the Doggone Cutest Pet Gifts!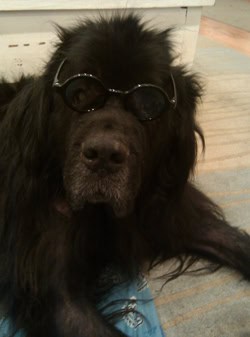 I am not the kind of person who dresses up my dog in cute little outfits – okay, I did put my 3D glasses on my Newfoundland, Jessie, after the Harry Potter screening so I could post a picture on Facebook – but I do love spoiling her with new toys or special treats, and for those I always turn to Muttropolis.
We're lucky to have a Muttropolis close by in Solana Beach, so we can just pop in and see what's new. They have a unique – and extensive – selection of top-quality pet food, treats and accessories, and the best customer service in the business. You'll find this even if you order online. Their employees are attentive and caring and, if they don't know the answer to your question, they will find it. They even helped me pick out an orthopedic bed for Jessie which has made her much more comfortable over the years.
The Muttropolis Holiday Shoppe is now open, and if your dogs could tell you what they want, here's what would top the list: Mutt Munchers grain-free biscuits in seasonal flavors like turkey, pumpkin and crown roast, and the turkey extra tough dog toy (although my personal favorites are the Humunga stache or tongue, which crack me up every time). And if you do like to dress up your dog, we'll admit they have some very cute sweaters, t-shirts and accessories!
Muttropolis is a big supporter of Rancho Coastal Humane Society, SNAP (Spay Neuter), Helen Woodward and the San Diego Humane Society. They hold fundraising events, donate gently-used products for shelter animals and host adoptions all year round.
Jessie givse Muttropolis a huge paws-up!
This post originally appeared on my former blog, StyleSubstanceSoul.