#earthfootwear = happy feet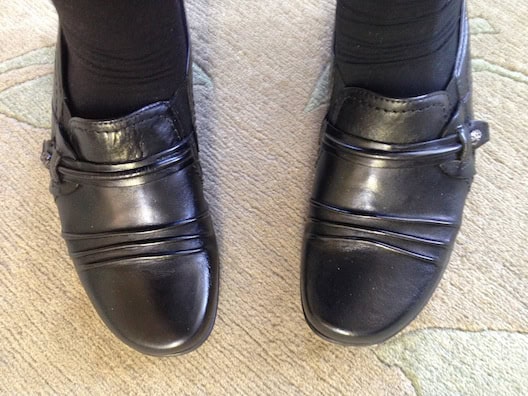 As I've gotten older, shoes have become more important than ever to me.
I'm so done with Barbie doll heels, and I panic whenever I need to get even remotely dressed up because it's became really hard to find nice shoes that don't hurt my feet.
So when I was offered the chance to review a pair of shoes from Earth Footwear's fall/winter 2014 Earth Collection, I immediately agreed. Not only are most of the shoes under $100 (hello, second pair!) but each style is packed with these amazing features: a cushioned footbed for comfort, a padded heal area to displace shock, a reinforced arch support to stabilize the foot, and a multi-density latex cushioning layer for extra support.
Honestly, I just breathed a sigh of relief reading all of that.
Of course, none of that would matter as much if the shoes didn't look so good.
I chose Maize in black brush off leather because I love wearing black tights or socks with black shoes for a smooth line. I've already worn them not just for "dressier" events but to movie screenings, to a press conference where I had to stand for an hour and a half, and to a restaurant to which I had to walk practically half a mile from the only parking spot I could find. On all of these occasions, I never even thought about my feet.
THIS IS SUCH A BIG DEAL!
I've gotten lots of compliments on these shoes, which are inspired by vintage men's loafers but have a sophisticated, feminine silhouette that definitely puts a spring in my step. The leather lining is glove-soft, and I'm thrilled to be able to wear shoes instead of my go-to sneakers.
In fact, I'm so happy with these shoes, I'm thinking of getting the Bellwether flats as well. What I love about Earth Footwear, besides the fact that they look and feel great, is that you can just order them online – they run true to size – and shipping and returns are free. It was so exciting to open my mail and see this: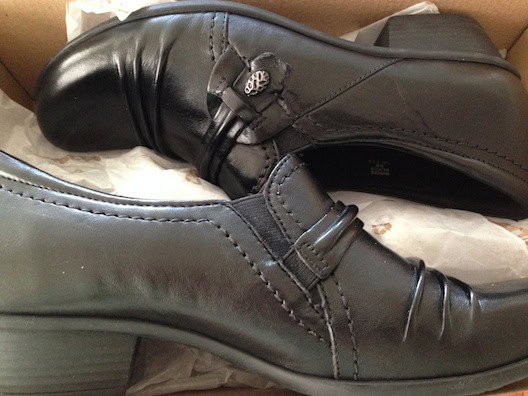 Best of all, Earth Footwear isn't just about soles; it's also about soul. The company plants trees, gets involved in community and gives back — and that's really important to me. You can read more about their philanthropic efforts here.
And be sure to sign up for the Earth Footwear newsletter here so you'll automatically be entered in the monthly shoe giveaway. Follow them on Facebook, Twitter, Pinterest and Instagram for the latest styles and news.
Then, stop sitting around admiring your shoes, get up and Walk Your World.