tackling the family photos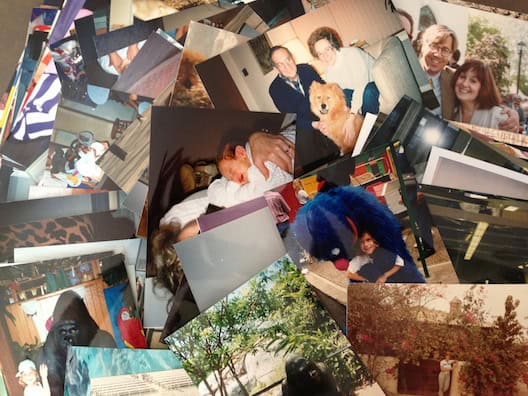 When we had to evacuate our house during the San Diego wildfires a few years ago, I unhesitatingly left behind all our material possessions except for our photos and home videos. Because they were so important to me, I started packing cartons of them into the car days before we actually had to leave. I made sure my parents, who live just a few miles away, did the same.
This whole process was a major pain in the neck and I swore to myself I would figure out a way to get the photos organized and keep them safe so we'd never again have to worry about them getting lost. That was apparently easier said than done so, since then, I've pretty much done nothing – other than take hundreds more pictures.
Thankfully, a friend of mine recently introduced me to Gen-Ark™, a "cloud-based Digital Estate Asset Management system" that basically acts like an online safe deposit box. It's a brilliant idea.
What makes Gen-Ark™ different from plain old back-up services is that it provides a permanently-guaranteed place to store, organize and share your precious memories. They're saved on multiple platforms so if there's any kind of failure on one system, they're still protected on another. And just like a safe deposit box, it keeps your photos in the same condition in which they started. This seems like an obvious feature but, while researching Gen-Ark™, I was shocked to learn that photo storage services often reduce the quality of your pictures in order to save space.
I was also horrified to discover that, if you read the fine print, most storage sites will delete your account when you die. That means your family no longer has access to the photos you tried to protect, and a lifetime of irreplaceable memories is simply wiped out. The whole point of Gen-Ark™ is to keep your precious photos always accessible to the people you love.
Because I wasn't born yesterday – or during this century, for that matter – I have at least as many physical pictures as I do digital ones. Although I have an entire room of scrapbooking supplies and have managed to put together a few albums, most of my photos are thrown into boxes of various sizes and shapes, and are scattered throughout different rooms and closets. Gen-Ark™ recently acquired Scangaroo, which offers mobile scanning in specific areas of the country, but since I don't live in those regions (Denver, Greater Puget Sound), I will be looking into local scanning services once I edit my collection.
Unfortunately, most of my photos aren't labeled or dated, and, although I remember dramatically insisting 20 years ago that I could never forget the names of my kids' preschool friends, well, somehow I have.
I was hoping my parents' photos were better organized and labeled but when my mom recently pulled out a box of her own to find something, we turned them over and just sighed.
Although I doubt the nice people at Gen-Ark™ can figure out names and dates for us, they can help us organize all our pictures and come up with a system that makes it easy for us to keep them organized. Otherwise I'm afraid all our photos will eventually become as generic as the ones you buy at vintage shops.
My husband and I have spent a lot of time and energy on estate planning, so it's been a huge wake-up call to realize that we've never even considered our digital assets. How will our kids ever find the photos in our laptops when we can't remember the passwords ourselves? How will we get to all those great photos that are in our parents' computers?
And what happens when our technology becomes obsolete? Gen-Ark™ makes it easy for family members to access each other's pictures in whatever format is current at the time, and that's a big deal I hadn't even thought of before. It would be like having all my VHS tapes and 8-tracks automatically transferred to DVDs and CDs! (Although Gen-Ark™ knows that those will be obsolete at some point, too, and will save all your audio and video files so they can be transferred to an external hard drive, giving you so many more options for your home movies.)
Take a look at Gen-Ark™ and see what you think. I'm thinking it just may be the oasis for my photos.
This is a sponsored post. All opinions, as always, are mine.