jenny craig and jazzercise: week 2
I was a little nervous about getting weighed in at Jenny Craig today because my husband and I celebrated our anniversary this past week and, of course, we also had to have a good-bye dinner for our daughter before she left for her senior year of college.
So I got there early in the morning, before eating breakfast or taking even a sip of the Starbucks iced tea I picked up along the way.
Remember I told you the Jenny scale is three pounds higher than my scale at home? Well, my middle-aged brain couldn't remember how much I weighed on which scale so when I stepped on, I was convinced I had only lost eight ounces.
Poor Penny, who didn't have last week's numbers in front of her, was trying to be so supportive as I was kept repeating, "Eight ounces?!"
When we sat down at her computer, I saw her looking back and forth until she finally turned to me, pointed at the numbers and said, "Really?"
"Oh!" I screamed. I had lost eight ounces – and three pounds! (*Legal note: Clients following the Jenny Craig program, on average, lose 1-2 lbs per week.) That put me at a grand total of 6.8 pounds.
We high-fived each other, and then Mary came in with this lovely creation to show me what five pounds of fat looks like.
It was gross, and the idea that I have another five or six of those to lose is sobering.
But I know I'm on the right track. Marne and I had discussed last week how to prepare for my special events, so I knew I was okay indulging in a crunchy roll and some edamame. Twice.
Penny asked me why I thought I had been so successful so far, and I unhesitatingly said, "Because I'm exercising." She made me repeat that so I would understand how important that was to reaching my goals.
I definitely understand, and am grateful for Jazzercise, which is making it fun and easy for me to actually show up four days a week.
Just look at the joy on my instructor's face!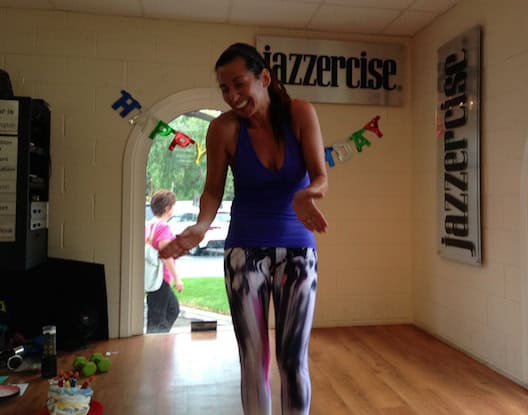 Dawn makes us laugh while she's kicking our butts, which is amazing considering I can barely breathe when I'm trying to follow the steps and routines. She is awesome, and she celebrated her birthday on Monday by handing out random gifts to others. That's the kind of class this is.
I will give you more details about each program in the next week or two but, meanwhile, just know that if I can do this, anyone can. Seriously. If you have questions that you don't want to post here, feel free to email me at lois@midlifeattheoasis.com. Oh, and both programs are featuring special deals now so check them out and tell them Lois sent you. Let's do this together.
*I received a free month on the program in order to do this review. There was no compensation. The opinions expressed are my own and not influenced in any way.