You are here:
Home
/
Social Good
/
national hiv/aids and aging awareness day
national hiv/aids and aging awareness day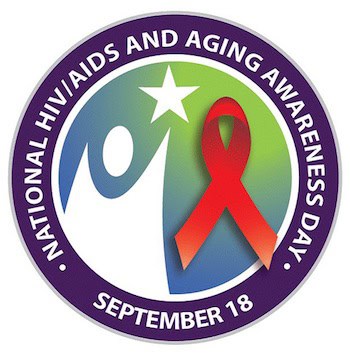 Thanks to Let's Stop HIV Together for sponsoring this important
conversation. All opinions are, as always, 100% mine.


Tomorrow is National HIV/AIDS and Aging Awareness Day, and I hope you'll help me spread the word and end the stigma.
I've never understood why there would be any kind of stigma associated with HIV in the first place. People who are dealing with HIV shouldn't have to worry about others' reactions. They need support and they need to be able to talk about how they're feeling. And they need to seek treatment.
This is especially important for our age group because, although the overall infection rate has decreased in the US, there is a significant risk to people over 50. However, they are less likely to get tested and, as a result, are subject to higher mortality rates than their younger counterparts.
As we all know, midlife doesn't mean the end of sex. So many people are out there dating and, unfortunately, they often forget that HIV is not a thing of the past. They don't use protection and older women, in particular, may be even more at risk due to age-related thinning and drying of vaginal tissue.
Yet, they don't even consider getting tested because they just don't see the point at their age. But a positive diagnosis is no longer a death sentence, and people can live healthy, fulfilling lives with the proper treatment.
For example, check out Theresa's story, below. She's a mother and a grandmother and she could be your friend. She could be you.
The stigma associated with HIV is one of the biggest reasons for low testing rates within this age group. Stigma leads to marginalization of those who test positive, which results in decreased testing due to the fear of a positive diagnosis, fear of disclosing status and getting treatment, and fewer conversations about safe sex.
It's time to change that.
There are some simple but meaningful actions you can take to decrease stigma and let people know that HIV is nothing to be ashamed about.
The Center for Disease Control has put together A Guide to Talking About HIV, which is a fantastic resource that reveals the power of words. For example, instead of using language like "victims" or "patients," use "People living with HIV." Instead of using a general term like "body fluids," be very specific and factual.
You can also learn more with the Let's Stop HIV Together Stigma Fact Sheet. It busts myths like HIV is spread through hugging or shaking hands with someone who is HIV positive — it's NOT. Or that you can get HIV by consuming food handled by a person who is infected with HIV — you CAN'T.
I know how compassionate all of you are, and I hope you'll all take a minute to raise awareness and help stand up against stigma by tweeting this:
Please encourage your friends to get involved too. Use hashtags #StopHIVTogether and #StopHIVStigma, and follow along on Facebook, Twitter and Instagram.
Let's get rid of the stigma not just on National HIV/AIDS and Aging Awareness Day but for good.