5 truths and a lie by rachel joyce
I love getting to know all of you better, and am thrilled that a couple of you even played 5 Truths and a Lie in the comments section of my post. Here's the truth about Rachel Joyce's statements. They are awesome! (And be sure to check out Madge Stein Woods' post here.)
A vice president of the United States has seen my breasts.
TRUE! When I was in college, I dated the president of the College Republicans. Dick Cheney was coming to speak at a local high school and my boyfriend wanted me to go. He came to pick me up at my dorm and I was in a T-shirt and jeans. He told me that I needed to be in a cocktail dress. So I told him to give me five minutes and shut the door in his face. I changed into a scooped necked cocktail dress and threw on some heels. I found out at the talk I was going to be sitting in the bleachers. Bleachers and cocktail dresses don't match. Halfway through the talk, I felt this hand come flying out of nowhere and hit me in the breast. I looked at my boyfriend and said "Jay, what the hell are you doing?!!?" He said "Honey, you're flashing the Vice President." I looked down to see I had completely fallen out of my dress and my breasts were exposed. I made Jay give me his suit coat and put it on. After the speech, Dick Cheney passed 75 people before stopping at me, putting out his hand and saying "It's such a pleasure to meet you."
I have spent an hour on a New York City street in absolutely nothing, but a bathrobe.
TRUE! I was a student at NYU for a summer program and was getting ready to shower and drive back home. When I was just about to pop in the shower, the fire alarm went off and a few minutes later a fireman was at my door telling me I had to get out because the building was on fire. He wouldn't let me get dressed. So I went out in nothing but a bathrobe and had to stay that way until they let us back in an hour later. It was only a small kitchen fire with no major damage.
I can speak a little of the following languages: German, French, Italian, Farsi, Dutch, Latin, and Welsh.
TRUE! I took three years of French, two years of Latin, seven years of German, and six months of Welsh in college and K-12. My sister-in-law is Persian and trained her dog using Farsi, so I had to learn Farsi so I could command the dog. I learned Italian for a novel I'm writing (an update of Jane Austen's Northanger Abbey), and I'm obsessed with Dutch libraries so I bought Rosetta Stone Dutch so I could one day work in one.
At the age of twelve my entire class (everyone in sixth grade) got taken out of school for a week to learn how to shoot .22 rifle, trap animals, use a bow and arrow to hunt animals, and wilderness skills. At the end of the week we all took a test to receive our hunting license.
TRUE! I lived in the land of God and guns….Pennsylvania. We are the only town in the state that does this, but there were parts of it that were fun. We also got the first day of doe and buck day off from school and my senior year our homecoming queen got caught skipping school to hunt deer.
I have been an event planner for over half my life and have planned 10 homecomings, dinners for 3,000 people, fancy dress galas, and lectures series, but parades are my all time favorite thing to plan.
TRUE! I started when I was 16 and I'm now 33. I couldn't believe when I counted this year that I had actually done 10 homecomings in my life. That seems like a lot. Parades are totally my favorite, but I don't get to plan them anymore.
When I was eight I told my parents I wanted to plan the Macy's Thanksgiving Day Parade for a living. Although I haven't I did go on to plan homecoming parades at various high schools and colleges.
FALSE! I didn't want to plan the Macy's Thanksgiving Day Parade until I was 18. I actually did my senior thesis on the parade. Here's a fun fact: when the parade started using balloons, they didn't know how to deflate them, so they let them go. When they deflated and fell to earth people would collect them and take them back to Macy's. Macy's, in return, would give them a washer/dryer, refrigerator, or other large appliance. When the Depression hit, people were desperate to get the balloons. One Pan Am pilot took drastic maneuvers to capture a balloon on the wing of a commercial plane full of passengers. After that, the Feds stepped in and told Macy's they had to stop releasing the balloons.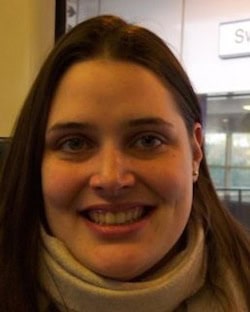 Rachel Joyce is an event planner at a small liberal arts college in upstate New York. She is working on several novels, but has to finish her second master's thesis first which is due February 26, 2014 and will be defended in June 2014. Her first masters degree is in library and information science. She loves Jane Austen and her Siberian Husky, Rory. Her second masters degree will be in arts administration, which is ironic because she's almost been kicked out of every major museum in Europe and the East Coast of the U.S.