Why We Love Lois and Susan by Michael and Larry
Why I Love Susan by Larry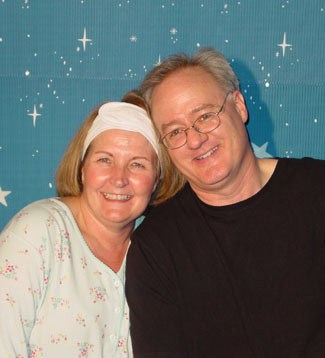 The thing I love about Susan, and have always loved about her, is her smile.  When we first met thirty-one years ago, she had me at her smile.  It's genuine, honest, and infectious, and my day is always brighter because of it. I love seeing that smile!
Beyond her smile, Susan has amazing qualities that I admire and love, and among them are:
–  Her compassion for others
–  Her understanding of others
–  Her equanimity
–  She doesn't look for "pain" nor does she carry "pain"
–  She doesn't use crutches
– She does the honorable thing
– She forgives
– She never complains about the meals I prepare that are burnt offerings or appear to be sacrifices to the gods
– She knows what she is about
– She is a sterling example for our daughter, Catherine, of not being carried away by emotion, but rather how to approach things on a logical and practical basis
One thing is for sure: life with Susan is richer and makes me a happier person. 
Why I Love Lois by Michael
My favorite pizza is John's on 64th Street in New York. Super-model-thin crust, black coal dust drifting off the bottom, hearty blends of cheeses, old-world sauces, chunks of tomatoes, basil, garlic and parsley melting, bubbling, dancing on top. You crack that slice in half and, with extreme care, wedge all those divine flavors into your lucky little mouth like Captain Sully miraculously landing his aircraft to the joy of the world. Lois makes John's Pizza better. She enjoys pizza as much as I do and, even though we know we shouldn't, we always order that extra slice. And split it with total abandon and happiness.
Morning's unopened quiet is most comforting to me. In the darkness of 5 a.m.,  life's impossibilities reveal their secrets in slow layers and tender, hopeful voices. Lois coming down the stairs as the day's light comes up, moving lopsidedly in the kitchen, in her it's-way-too-early slide-walk and soft sighing, "Hi, honey," makes mornings better.
Nothing in the world stays the same. Fight as I do, I am learning this, and yet my feelings for Lois have been solid; she offers me a handle to grab on to, counter-balancing the universe's malicious back and forths. Lois' logical, compass-true kindness and her no-matter-what committedness calms all, soothes all, makes the inevitable human crashings against all the forces of nature harmonic.
Lois makes ice cream sundaes better. She'll resolutely insist I get the last chocolaty, molten spoonful, and then other times she'll scoop it up herself, smile, "Yummy!" — remorseless.  Steadfast mixed-in with surprise is Lois' formula for world peace in our lives. California sunshine is made better, post-operative pain, walks with no destination, being stuck in traffic in a tunnel with the gauge blinking empty, personal moments of greatness, getting knocked-down, love — Lois makes them all better with her laugh that rises from a still, deep place of acceptance, practicality and celebration for the small, the now, always.
Michelangelo's Mona Lisa is the greatest painting of all time. She is worshipped in the world's most famous museum, in the glorious city of lights and love. Lois even makes Paris better.
This post originally appeared on my former blog, StyleSubstanceSoul.