cochlear helps children hear
Thanks to Cochlear for sponsoring this important post. All opinions
are, as always, my own.


As parents, our greatest hope for our children is that they have the opportunity to live their lives without limits. We celebrate each developmental milestone with a mixture of joy and relief.
But what happens when you suspect something is wrong and your child is not hitting those milestones?
Hearing loss is often responsible for children falling behind, and Cochlear understands that it's about so much more than hearing.
The global leader in implantable hearing solutions, Cochlear has helped more than 450,000 people over the past 30 years, providing products designed to treat a range of hearing loss. The one you've probably heard the most about – cochlear implants – is one that I'm very familiar with since it's made a huge difference in my father's life.
Because I've seen firsthand how dramatically cochlear implants can improve someone's quality of life, I jumped at the chance to share this information. I'll be writing specifically about my dad's experience tomorrow but right now I want to give you some facts and resources.
According to the Hearing Health Foundation, hearing loss is the second most prevalent global health issue, affecting more than Parkinson's, epilepsy, Alzheimer's Disease and diabetes combined. This is huge for children because hearing has a direct correlation on communication, which is the foundation for so many developmental milestones.
Cochlear knows that the earlier you give kids access to hearing, the better for their speech, language and development. We've all seen kids' faces light up when they hear the sound of a parent's voice or a beloved pet's bark, and the company believes every child should have the opportunity to experience that.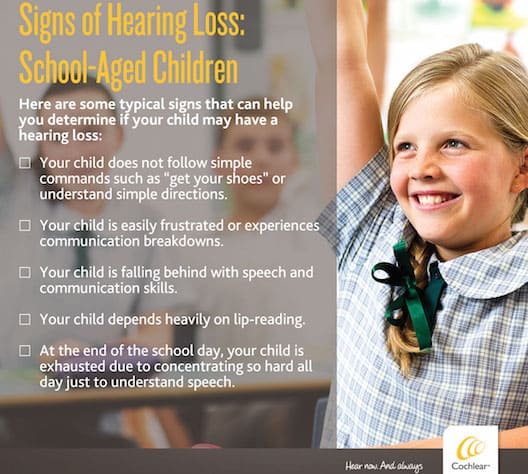 Cochlear's website, IWantYouToHear.com, provides a wealth of information for parents who have questions about their own kids' hearing. This is such an important resource, especially since 90 percent of children with hearing loss are born to hearing parents who have no experience with this issue.
The website offers valuable tips on signs to look for in your children, how hearing is tested, and how cochlear implants actually work. They also provide a hearing specialist locator so you can type in your zip code to find an expert in your area.
Because cochlear implants are medical devices, they are subject to FDA guidelines. You can't just get one; your doctor will determine if you meet the specific criteria.
And, because cochlear implants become a permanent part of a child's life, Cochlear makes it clear that they will be, too. They are supportive, life-long partners who are there to help families navigate through what can be a scary and challenging journey.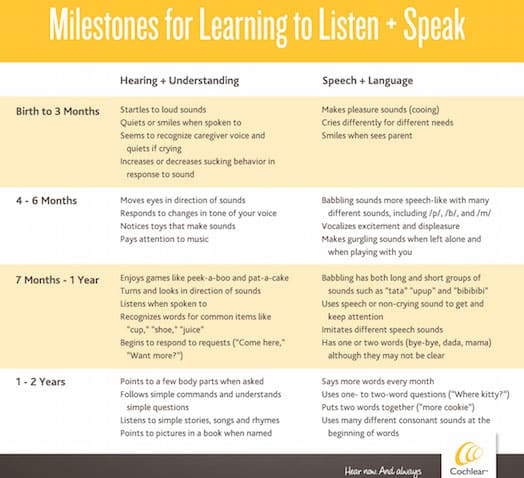 Cochlear has also hosted Facebook chats with experts in the field, including Dr. Dana Suskin, pediatric otolaryngologist and founder of Thirty Million Words, a groundbreaking initiative. The program focuses on practical ways for parents to capitalize on the results of a study showing that the "achievement gap" in learning comes from the fact that, by their fourth birthdays, some children hear 30 million words fewer than other children.
To put it simply, the most important thing you can do for your kids is talk to them! It's even more instrumental to their development than preschool.
This research has profound significance for children with hearing loss but what Cochlear also offers is hope. They remind parents that hearing is actually about the brain – not about the ears – and they are there to help families every step of the way.
If you suspect your child or grandchild may be experiencing hearing loss, trust your instincts. Check out IWantYouToHear.com, watch videos of other families' experiences and find a hearing specialist near you.
I hope you'll come back tomorrow to read about my dad's experience with cochlear implants. It's life-changing.