win kn karen neuburger pajamas and a trip to miraval!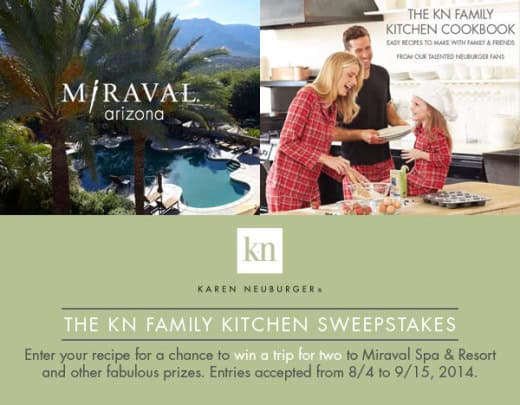 How can you not adore someone who believes the best moments in life are experienced in pajamas?
I've been a fan of KN Karen Neuburger since my friend (!), Oprah, touted them as her favorite pajamas and gave them away on her first "Favorite Things" show.
As any of us who work at home know, there is nothing better than spending the day in your pajamas. Because she understands this completely, KN Karen Neuburger designs all day sleepwear that you will just want to live in. And you can. These pieces look so good, you can feel comfortable wearing them anywhere.
This holiday season, the company will be giving away the KN Family Kitchen Cookbook as a free gift with purchase, and your personal recipe just may be featured in it! Plus, one grand prize winner will also receive a trip to one of my favorite places in the world, Miraval Resort and Spa in Tucson, Arizona. My husband and I live in our robes there!
To enter the KN Family Kitchen Sweepstakes, all you have to do is submit a unique recipe on their website. The contest ends on September 15 so get your recipe in now. I can't think of a better place to hang out in pajamas than Miraval.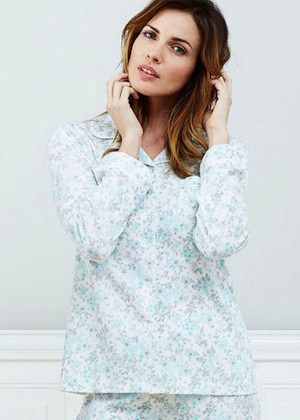 Because I don't cook, KN Karen Neuburger has generously offered to give away a pair of pajamas to me and one Midlife at the Oasis reader. I love that I can be twinsies with one of you! I chose the Ditsy Print Girlfriend Style Pajama Set because they're adorable and, well, the name seemed totally fitting.
We can have a Google hangout together in our pjs!
For a chance to win these cuties, simply leave a comment below. For a second chance to win, Tweet this:
Contest ends on September 15 at midnight Pacific time. Winner will be notified by return email, and prize can only be sent to a U.S. mailing address.