lyssé leggings: good-bye sweats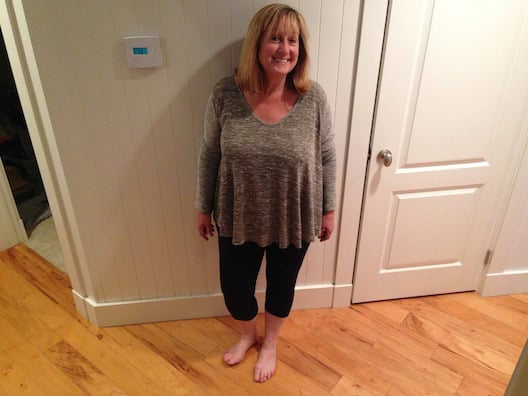 I love stretchy pants.
As a writer who works from home, I pretty much live in them. Over the past 25 years, I've shown up on the school drop-off line in pajama bottoms, worn sweats to Little League games, attended parent-teacher conferences in yoga pants and traded in my jeans for jeggings.
So when Lyssé asked if I wanted to try a pair of their cotton Capri leggings, of course I said yes!
I've read about Lyssé in the fashion magazines for a long time – they have kind of a cult following – but I always thought they'd be a little too form-fitting for my middle-aged body.
And I haven't worn Capris in years because I was convinced the bulky fabric would just add heft to my thighs.
Well, my fears were completely unfounded, and I am never taking these off.
Lyssé leggings feature hidden control panels that seriously hide the muffin top – how in the world did they do that?? – and are so comfortable, I actually slept in them you just might be tempted to sleep in them.
What Lyssé proves is that fit is everything. Although these leggings feel like yoga wear, they have the sophistication of couture, thanks to expert tailoring and truly innovative design. Their signature 3S Technology stands for slimming, smoothing and shaping and, somehow, they succeed in all three. I get compliments every time I wear them. I know! When was the last time you got complimented for wearing something comfortable?
Because even I realize I can't live in the same pair of leggings forever, I've been spending time on the Lyssé site, figuring out which pieces to try next. They've added a whole new line of performance wear, and all the pieces look flattering, versatile and so, so easy. They're washable. They're packable. And they look great dressed up or down, and mixed and matched with pieces you already own.
Best of all, since I've been wearing Lyssé, my daughter hasn't given me that face – I know you know that face – or asked, "Aren't you changing before we go out?"
And that's a good thing. Because I'm not.