5 truths and a lie by robin kall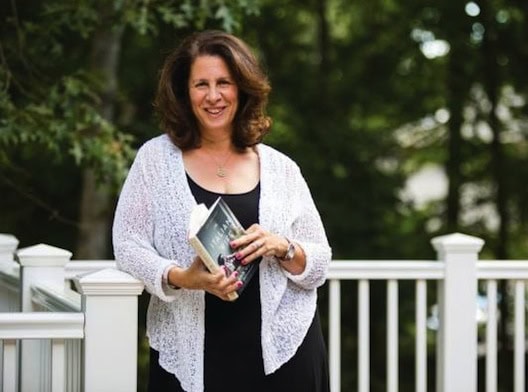 I love when my friends decide to play 5 truths and a lie with me! Last year, Madge Stein Woods and Rachel Joyce played along. And now, Robin Kall of Reading with Robin is joining in. Yay!
I met Robin at Book Expo America a year and a half ago. We sat next to each other at an author breakfast and not only became friends within minutes but discovered that we both went to college at the State University of New York at Binghamton. (Okay, she went a couple of years after I did.)
I hope you'll enjoy getting to know Robin through these stories and then go check out her amazing podcasts, author interviews and book reviews. She is awesome!
1. I would up stranded on a bus for 24 hours because I was watching a wing eating contest.
TRUE. I was taking the bus to Manhattan from SUNY Binghamton but my friends were participating in the wing eating contest in the dining hall. How could I miss that? One of them even threw up. Because I got on a later bus than I was supposed to, we hit a snowstorm about 20 minutes from the George Washington Bridge, and I had to walk far to get to a pay phone. I told my sister we were in a Howard Johnson's for the night so my mother wouldn't worry. The truth was we were on that bus until 1 p.m. the next day. By the time I met my parents at their hotel, I was starving and tired and ordered up a bagel with cream cheese and tomatoes. I think it was $14 and I never heard the end of it from my father.
2. I've read Pride and Prejudice five times.
FALSE. I figured people would believe that, as a reader, I would have read that book five times!
3. I scratched Glenn Tilbrook's (the lead singer of Squeeze) back.
TRUE. Also at college at Binghamton, I bid at the carnival auction for front row seats to the Squeeze concert because I was a huge fan. I had a friend who worked for the concert commission and I tried to get a backstage pass but couldn't. After the concert, I took a few friends and we walked around the gym until we figured out which doors would bring us to the "green room." We waltzed in there and had cheese and crackers just like the invited guests! You should have seen the look on my friend's face! We took pictures and Glenn Tilbrook couldn't get over my really long Long Island nails and asked for a back scratch. I obliged, natch!
4. I kept a pair of earrings from Sex and the City.
TRUE. I was on the set of the movie – the scene at the Carlyle Hotel where SJP and Jennifer Hudson have their conversation at the bar – and my friend and I were invited to be extras and were whisked away to hair and make-up. I had mine done right next to J. Hud! Part of my ensemble included a pair of large silver hoops, which I realized I was still wearing on the way home. The scene would up on the cutting room floor but I still have the earrings!
5. I tried to sell Imus a Beanie Baby on air.
TRUE. I was listening to the Imus Show on the radio one morning and heard him mention he needed the lamb Beanie Baby for Deirdre. I called and thought it would be funny to have him bargain with me even though, of course, I had no intention of selling it because it belonged to my son. He said something about being able to trust me and I mentioned I was from Providence, the home of Mayor Buddy Cianci, who had just been indicted. Imus loved that and the radio station used it as a sound byte for a long time.
6. I told Billy Joel I was more of a Phil Collins fan.
TRUE. This is one of my favorite stories ever. Billy Joel was in Providence for an event, and I told him my college roommate had an enormous poster of him in our dorm room. He knew which poster it was, and told me it was a bootleg. I told him I was a fan of his but was much more of a Phil Collins and Genesis fan. As an aside, I asked him, "Whatever happened to Brenda and Eddie? It's been 25 years," and he was like, "Oh, wow, I have no idea. I just made that up!" He thought it was a clever question!