a day at the san diego international auto show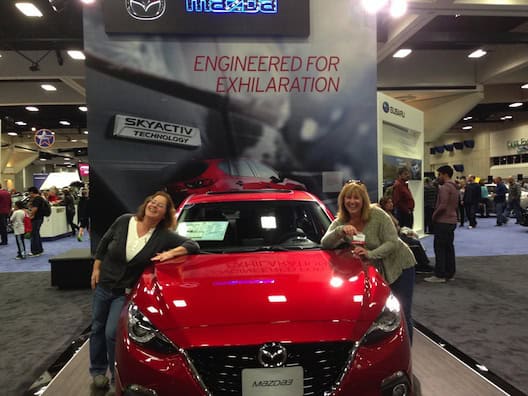 After a year and a half of writing reviews, I finally got to attend my first car show last week.
Mazda invited me and my good friend, Ruth, to check out their Ride & Drive Experience at the San Diego International Auto Show and, because we're up for almost anything, we immediately accepted. As someone who is way more into cup holders and sound systems than horsepower and torque (what?!), though, I had no idea what to expect.
We had a blast!
Just look at us in that picture. We may not be your typical car show models but it's pretty obvious that we were engineered for exhilaration, don't you think?
Josh and Cameron, our private tour guides ( ha ha! that's not the title on either of their business cards but we appreciated them stepping into that role as deeply as we appreciate them lending us cars to review), gave us quite an education about the Mazdas, and we learned that the Mazda3, which I reviewed here, is, hands down, their most popular model. Attendees at the show were all over that car and, in fact, we had to push some people out of sweetly ask some people if they were done ooh-ing and ah-ing over the one above so we could get our picture.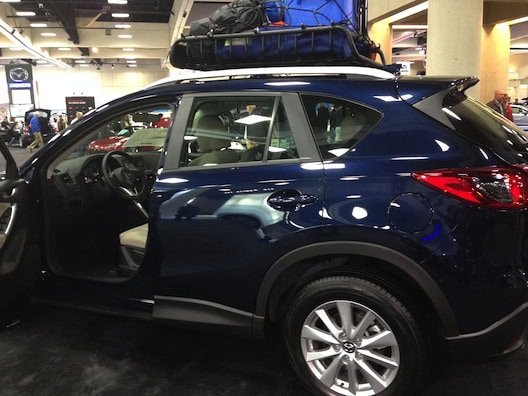 As we leisurely walked around the Convention Center, we saw all kinds of fascinating vehicles and prototypes, played a few games and even virtually spray painted our own cars.
The highlight of the show, though, was the Ride & Drive Experience. This is such a great idea because it gives consumers the opportunity to test drive a variety of cars without the pressure of a dealer. That's huge.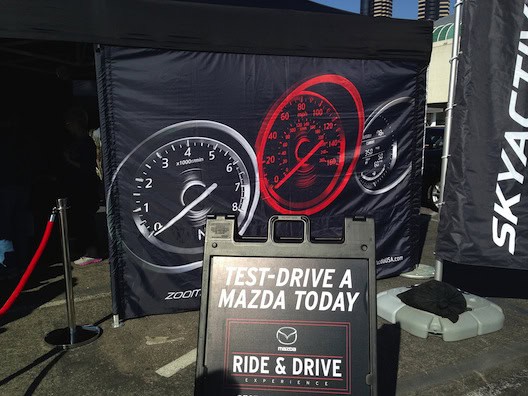 We were excited to get started but there was only one little problem.
I failed the breathalyzer test.
Hold on. Before you start getting some picture in your head of me falling all over myself, drunk on whatever, let me explain. I had just made a joke that they shouldn't be testing people the day after New Year's — even though the real joke is that I don't drink.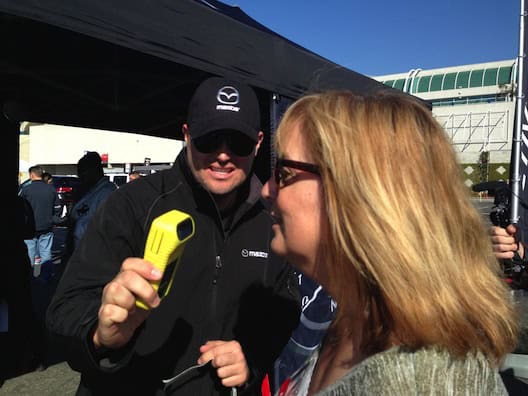 And then, when I blew into the thing, it didn't register. So I did it again. And again. And again. I huffed and I puffed. I let out a cleansing breath. I blew softly. I whistled.
Nothing.
Everyone was hysterical laughing until, finally, Josh vouched for me and we continued on our merry way even though I was practically hyperventilating by that point.
So, I didn't really fail the breathalyzer test. I just didn't really pass it.
Once we got in the cars, though, I felt right at home. I've reviewed the Mazda6 and the CX-9 before, and it was fun to get behind the wheel again.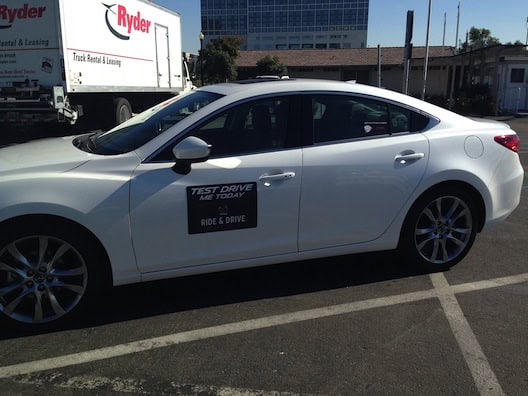 We got to see part of San Diego we had never seen before and we really enjoyed comparing all the different features of the cars. If you haven't test driven a Mazda lately, you should definitely check out the car show in your city and try one out. I bet you'll love it.
When we finished our test drives, we were rewarded with Starbucks gift cards, which was a very nice surprise — and which actually motivated a few of my friends to head to the Auto Show when I told them about it.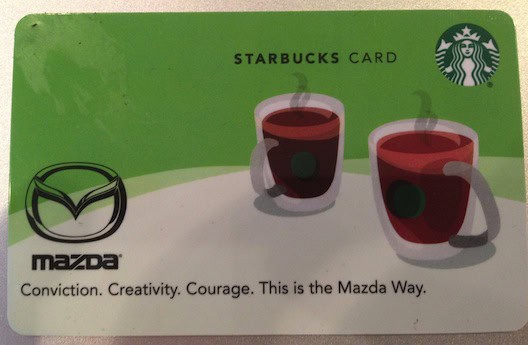 After goodbye hugs to all, I picked up a trenta-sized iced tea and spent the evening buzzing around, considering which Mazda I should ask Josh to borrow next. If caffeine was the substance being tested, I'd never pass a breathalyzer test.
Zoom zoom, indeed.